Sessions tells prosecutors to toughen up on worst criminals
Sessions told attorneys to use "the substantial tools at their disposal" to pursue more prosecutions and seek harsh sentences for those who commit robberies and gun crimes
---
By Sadie Gurman 
Associated Press
WASHINGTON — Attorney General Jeff Sessions on Wednesday underscored his oft-stated pledge to fight crime by directing the nation's federal prosecutors to intensify their focus on the worst violent offenders.
In a memo Wednesday, Sessions told the 94 U.S. attorneys to use "the substantial tools at their disposal" to pursue more prosecutions and seek harsh sentences for those who commit robberies and gun crimes. He acknowledged that U.S. attorneys already view this as a main part of their job, but said they must do more to see a drop in violence.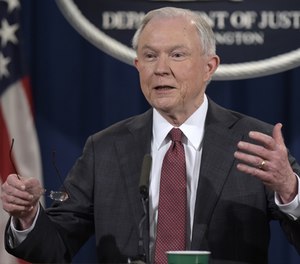 "I encourage you to employ the full complement of federal law to address the problem of violent crime in your district," Sessions wrote. More guidance would be forthcoming, he added, "including an updated memo on charging for all criminal cases." That could signal his intent to undo an Obama-era policy that discouraged prosecutors from seeking harsh mandatory minimum sentences for nonviolent crime.
The letter is a reiteration of Sessions' tough-on-crime stance. It came two weeks after he repealed a memo that directed the department to phase out the use of private prisons, signaling he sees them as necessary for the future.
In the memo, he lamented a spike in murders "while federal prosecutions for violent crimes have been declining" and urged prosecutors to work with their local counterparts to punish criminals and dismantle drug gangs.