W.Va. Senate advances pay raise bill for correctional officers
The legislation would raise CO pay in the state by $6,000
---
By Phil Kabler
The Charleston Gazette, W.Va.
CHARLESTON, W.Va. — While one pay raise bill is in limbo in the Senate, another began moving Thursday, after being put on hold for six days (House Bill 4142).
The legislation, to give correctional officers at state prisons, regional jails and juvenile facilities a three-year $6,000 pay raise advanced to passage stage in the Senate.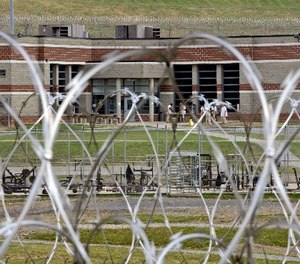 Sen. Richard Ojeda, D-Logan, amended the bill to extend the pay raise to parole officers, whom he said also put themselves at risk doing home visitations.
"Everybody who walks through those doors is in danger," Ojeda said, relating experiences accompanying parole officers on their rounds. "Everyone who does that line of work is in danger."
Senate Finance Chairman Craig Blair, R-Berkeley, said he supports the amendment, even though it will add $2 million to the annual cost of the pay raises, which total more than $29 million a year for the other correctional officers when the $6,000 raise is fully implemented.
The pay package plan is the result of a legislative interim committee that spent the past year studying critical staffing shortages at the facilities because of low pay, starting at $24,664 for new correctional officers.
Military Affairs and Public Safety Secretary Jeff Sandy told the committee the shortage, requiring many correctional officers to work mandatory 16-hour shifts, is a crisis, and in December, Gov. Jim Justice declared a state of emergency to allow National Guard to help staff the facilities.
The bill will be up for a passage vote in the Senate on Friday.
Senate President Mitch Carmichael, R-Jackson, had previously said the bill was being held up, not because it was in trouble or to use it as a "vehicle" for other pay raise proposals, but to allow the Senate to concentrate on completing work on Senate bills prior to "crossover" day Wednesday.
Meanwhile, the House of Delegates advanced legislation to legalize sports betting at the state's casinos, pending a favorable U.S. Supreme Court decision, after rejecting an amendment to expand sports betting into bars and clubs around the state that offer Limited Video Lottery (Senate Bill 415).
"Let's let them have a piece of this action," Delegate Joe Canestraro, D-Marshall, said of the amendment.
However, House Finance Chairman Eric Nelson, R-Kanawha, said bar and club owners don't have the expertise to manage sports betting that the casinos have, and said the state Lottery Commission does not have the manpower to regulate sports betting at potentially more than 1,200 locations statewide.
If the Supreme Court overturns a federal law banning sports betting in most of the country later this year, the legislation would allow the Lottery Commission to license the casinos to operate sports betting parlors on premises, and to issue smartphone apps that would allow registered players to place wagers anywhere in West Virginia.
Although conservatively estimated to produce about $5 million revenue for the state in its first year, a consultant's study has projected the state's 10 percent tax on gross profits could bring in $18 million to more than $30 million a year.
The bill advanced to a passage vote Friday in the House without an amendment sought by Major League Baseball and the National Basketball Association to impose a 1 percent "integrity fee" on each wager, money that would go to the professional sports leagues to monitor sports betting and to enforce current prohibitions on players betting on their sports.
©2018 The Charleston Gazette (Charleston, W.Va.)