Ky. judge issues temporary restraining order against state parole board
The order had been sought as part of a lawsuit filed by the state's attorney general last week
---
By Janie Slaven
Commonwealth Journal, Somerset, Ky.
        
LONDON, Ky. — The Kentucky Parole Board is officially prohibited — at least for now — from scheduling a second parole hearing for 45 inmates who were previously ordered to serve out their life sentences.
Laurel Circuit Judge Michael Caperton issued the order on Thursday, after indicating from the bench Monday that he would grant it. The temporary restraining order had been sought as part of a lawsuit filed by Attorney General Daniel Cameron and 27th Judicial Circuit Commonwealth's Attorney Jackie Steele to keep the prisoners — serving sentences for charges including murder, rape and kidnapping — behind bars.
Cameron and Steele jointly filed a lawsuit on behalf of the Commonwealth and crime victims challenging the legality of the Board's directive, converting the "serve outs" to 10-year deferments, which they had approved in January and went into effect on April 1.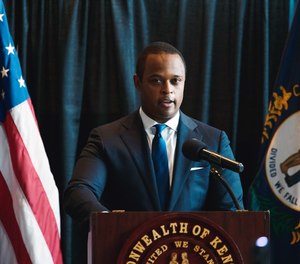 "We are grateful that the court acted with urgency to grant the temporary restraining order and stop the Parole Board from giving new hearings to 45 convicted criminals who are responsible for some of the worst crimes in recent history," Gen. Cameron stated Friday. "The Parole Board failed to provide the court with a valid reason for the new policy. We will continue to fight in court on behalf of Kentucky crime victims and prosecutors to ensure that the Board's directive is permanently stopped."
"When victims are finally told that those responsible for carrying out a crime against their loved one will serve out their sentence, they feel like they can close out a painful chapter and start the healing process," Steele added. "For a government agency to open it all back up, like the Parole Board did, is terrible. We have to stop it, and we have to be there for crime victims to ensure that this directive can never be implemented."
Among the inmates affected is Jeffrey Brian Coffey, 50, of Nancy.
A year ago this month, Coffey — sentenced in 1997 to life without the possibility of parole for 25 years for the August 1995 murders of teenagers Taiann Wilson and Matthew Coomer — went before the parole board for his first eligibility hearing and was issued a serve out.
Local Commonwealth's Attorney David Dalton filed suit June 10 in Pulaski Circuit Court on behalf of the Wilson and Coomer families — arguing in part that the change violates the recent constitutional amendment known as Marsy's Law.
Cameron chose to file in Laurel County because, according to Deputy Attorney General Barry Dunn, his office was particularly moved by the case of Donald "Scotty" Baker, who was just 10 years old in November 1992 when he was strangled to death by his stepmother Stephanie Spitser.
Like Coffey, Spitser was issued a serve out by the parole board in 2017.
Attorneys for the state parole board now have until June 28 to file a response.
     
(c)2021 the Commonwealth Journal (Somerset, Ky.)
McClatchy-Tribune News Service