Sweeping COVID-19 protections ordered at Texas prison by federal judge
The ruling comes after weeks of testimony by inmates, officials and experts about the lack of access to soap, hand sanitizer and routine testing
---
By Gabrielle Banks
Houston Chronicle
HOUSTON — In a blistering opinion Tuesday, a federal judge ordered a geriatric prison near Houston to provide more robust protection against COVID-19.
The permanent injunction by U.S. District Judge Keith P. Ellison goes into effect Oct. 14 at the Wallace Pack Unit in Navasota, but an expert said it could be used as a benchmark for other jurisdictions. Within hours, the Attorney General's Office gave notice it planned to appeal the ruling.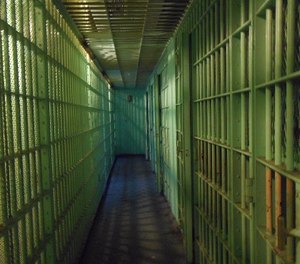 Ellison wrote that he doubted the credibility of Texas Department of Criminal Justice officials. He said many of the health protections were implemented in the lead-up to the trial and the lack of written policies and basic self-auditing "means there is a high likelihood of noncompliance with basic public health procedures in the future, just as there has been prior to and during trial."
"The track record at the Pack Unit speaks for itself—twenty deaths and a 40% infection rate is more than sufficient for the court to infer 'future injury' from 'past wrongs,' if TDCJ represents, as it did multiple times during trial, that it has no major plans to change or improve its current approach to COVID-19."
He emphasized what he called "the simple proposition that we must not treat with deliberate indifference those whom we have chosen to imprison."
A group of prisoners sued in March saying that rather than heeding CDC guidelines for testing and hygiene, officials at the medium security facility had shown "deliberate indifference" to a population that is especially vulnerable to suffering serious illness or death if exposed to the novel coronavirus.
The ruling comes after weeks of testimony this summer by inmates, officials and experts about the lack of access to soap, hand sanitizer and routine testing.
One 69-year-old prisoner who uses a wheelchair and has hypertension told the court that guards would not allow him to use hand sanitizer when he returned from wheeling his chair back to his bunk. Another inmate who is legally blind, partially paralyzed and in a wheelchair said officials made him continue to work as a janitor during the pandemic. An official testified it was feasible because, he could "put a broom against his neck and push it with a wheelchair."
"Once you take away somebody's liberty you have an absolute obligation to protect them from dangers you're exposing them to whether it's a deadly virus or any other dangerous condition," said attorney Jeff Edwards, whose Austin law firm brought the case along with lawyers from Winston & Strawn LLP.
Spokesman Jeremy Desel said the state prison system "strongly disagrees" with the order: "The Texas Department of Criminal Justice has and continues to take precautions to help prevent and mitigate the spread of COVID-19 inside correctional facilities."
The judge said he found the inmates' accounts of conditions and day-to-day operations more credible than statements by high-level prison officials.
The order calls for new standards at the prison for protection from the virus to which many at the 1,100-man lockup are especially vulnerable, as well as regular weekly testing and a built-in audit.
Attorneys for the prison argued that prisons need the flexibility not to be micromanaged.
The judge ordered the warden to provide unrestricted access to hand soap and clean or disposable hand towels and said that mobility-impaired inmates must be allowed hand sanitizer. He also mandated there be sufficient cleaning supplies in each housing area and fresh gloves and masks every time inmates are asked to perform new tasks, including janitorial and laundry shifts. He ordered the prison to enforce a new alternating head-to-foot sleeping arrangement in the Pack dormitories.
The employees must also step up, the judge said. He ordered the prison to create a plan for regular cleaning of the living spaces of inmates who are unable to clean them themselves. Staff must enforce social distancing and mark off areas with red tape to indicate spacing requirements and make common spaces available for temporary housing of inmates who do not have disabilities. Prison employees must enforce their own use of PPE.
Ellison ordered the prison to curtail transportation other than for medical appointments or release from custody.
In addition, the judge said the warden must implement a comprehensive weekly testing program that provides 48-hour results until the pandemic is under control in Texas. He said the prison must quarantine inmates awaiting test results from those who have tested negative. Officials must also establish a written plan to for contact tracing when an inmate or staff member tests positive.
Michele Deitch, a prison expert at the University of Texas's Lyndon B. Johnson School of Public Affairs, characterized Ellison's 84-page document "an exceptionally strong opinion that left little doubt that the prison agency was indifferent to these individuals' suffering."
She said it's a narrowly tailored, commonsense order that will likely withstand the scrutiny of appellate review.
"While it does not carry any authority in other states, there's no doubt that federal courts around the country will be looking to this ruling for its thoughtful reasoning and analysis of legal doctrine," Deitch said.
———
©2020 the Houston Chronicle
McClatchy-Tribune News Service