Motion: Violent Tenn. ex-con too dangerous to go unshackled
With a violent ex-con threatening a federal prosecutor, the U.S. Marshals Service is making a rare request to outfit him with a shock belt during his upcoming trial
---
By Jamie Satterfield
The Knoxville News-Sentinel
KNOXVILLE, Tenn. — With a violent ex-con threatening to shove a federal prosecutor's case down his throat, the United States Marshals Service is making a rare request to outfit him with a shock belt during his upcoming trial, court records show.
The Marshals Service does not publicly acknowledge the security measures the agency takes in federal courtrooms, including the one in which Michael Benanti will be tried later this month on several charges including kidnapping and extortion.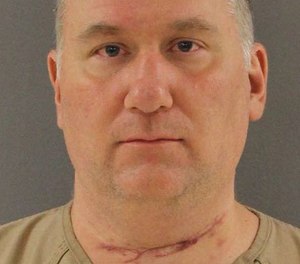 But a motion filed by Assistant U.S. Attorney David Lewen reveals the agency's bid to put around Benanti's waist a belt that the marshals can use to send a jolt of electricity to his body, and shackles around his ankles, during his Jan. 30 trial in U.S. District Court.
Benanti faces trial before Chief U.S. District Judge Tom Varlan on charges he masterminded and carried out a violent crime spree designed to force bank executives to rob their own banks by holding their families hostage. He is accused of three such hostage-takings in East Tennessee in 2015 as well as related crimes in other states.
The accused have the right under court rulings to doff any outward signs that they are jailed while being tried. That includes the right to wear street clothes and to be free of handcuffs, shackles or other visible security measures. Even court security must be unobstrusive.
The rulings are based on the notion that jurors would be prejudiced against and, therefore, more likely to convict, a defendant already behind bars.
Courts have allowed the use of shock belts and shackles in rare cases, but the device and the restraints must be kept out of sight of jurors and considered the last resort to keep a defendant on his best behavior.
Lewen heartily agrees with the Marshals Service request, noting jail calls show he and his star witness already are the targets of Benanti's rage.
"This (expletive) guy (Lewen), how he's stringing this evidence together, he should get (expletive) killed, man," Benanti said on a recent call from behind bars to a relative. "I hope (expletive) God will strike him dead."
In another call detailed in Lewen's motion, Benanti made what the prosecutor called a "veiled threat" of violence against Benanti's confessed co-conspirator and government star witness Brian Witham.
Witham turned on Benanti shortly after the pair's arrest in November 2015, pleaded guilty and has agreed to testify.
In a third of a series of profanity-laced tirades, Lewen wrote, Benanti said he would defeat Lewen and "shove" the case "down his throat."
Lewen argues these are not idle threats given his history. Benanti's criminal behavior has spanned decades and includes bank robbery, attempting to kill a police officer and attempted escape from a federal prison. He is so desperate to escape from his current case he used a jail razor to slash himself, Lewen wrote.
"(Benanti) is a hefty, but otherwise healthy, male in his mid-40s," Lewen wrote. "Accordingly, he is capable of inflicting violence on others or initiating a potential escape. (His) desperation, coupled with the foreseeable tension attendant to this jury trial, further warrant the Court authorizing USMS to apply the requested restraints."
Benanti's defense team of Richard Gaines and Robert Kurtz are scoffing at the request. They contend Benanti, a veteran of the judicial system, has always behaved himself in court.
"At no time did Mr. Benanti disrupt the proceedings nor did he hinder or obstruct the flow of evidence and testimony," the pair wrote.
They also argue Benanti is no match for the marshals, asserting he's short and fat and not very healthy. The defense team did not address the jail calls' suggestion of a vendetta by Benanti against Lewen or Witham -- other than to argue the marshals can handle it without a shock belt or shackles.
"(Varlan's courtroom) is the largest courtroom in the courthouse and can accommodate as much unobtrusive security personnel the court deems necessary," their response stated.
In addition to its role as the nation's premier fugitive hunters, the Marshals Service is also tasked with protecting federal judges, prosecutors, court personnel and the occupants of federal courtrooms and transporting federal prisoners between facilities and courtrooms.
Varlan has set a Jan. 23 hearing on the request.
___
(c)2017 the Knoxville News-Sentinel (Knoxville, Tenn.)