NYC DOC's employee wellness center is an investment in officer well-being
The center offers correctional officers the opportunity to de-stress through exercise, meditation, religious worship and counseling services
---
By Latima Johnson
On April 8, 2019, the New York City Department of Correction (DOC) cut the ribbon on a 20,000-square-foot Employee Wellness Center. Named after George Motchan, a DOC officer who was killed in the line of duty, the center serves as a place of replenishment for uniformed and non-uniformed employees. The center offers employees the opportunity to de-stress through exercise, meditation, religious worship, counseling services and is another tool that DOC correctional officers can use to help mitigate the workplace stresses they face daily.
"Building this place of respite for our uniformed and non-uniformed personnel is another way the Department is showing our commitment to the health and well-being of our staff," Department of Correction Commissioner Cynthia Brann said. "As we know, law enforcement is a stressful career and the George Motchan Wellness Center will give staff the opportunity to de-stress in a supportive, empathetic environment."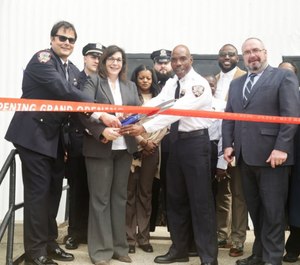 DOC CARE unit addresses emotional, spiritual, psychological needs
At a time when correctional officers have some of the highest mortality rates of any profession, it is imperative the corrections industry address the well-being of its officers.
Correctional officers suffer from PTSD more than any other law enforcement title, which is one of the reasons why the Department opened the Wellness Center. A study on correctional officer wellness (available in full below) found that 31% of COs reported serious psychological distress, which is twice the rate of the general public.
Executive Director of Chaplaincy and Staff Wellness Justin von Bujdoss understands the toll the job can take on staff health and wellness. He and his team are responsible for providing emotional support, grief counseling and religious services through the Correction Assistance Response for Employees (CARE) unit to uniformed and non-uniformed members of the department.
"We are committed to maintaining holistic support and compassionate CARE for all of our staff," von Bujdoss said. "The Wellness Center provides a centralized location through which staff can be supported in terms of physical, spiritual, emotional and social wellness. In this way, we will provide a tangible structure through which staff can increase resilience and gain wisdom around learning to cope with the various stressors associated with our important work."
The DOC CARE unit consists of two staff chaplains, three social workers, two psychologists, five wellness officers and three wellness captains. The unit is responsible for attending to the emotional, spiritual and psychological needs of DOC employees. The CARE team works around the clock to ensure that staff are supported and attended to during times of crisis.
Manage stress, build resiliency
The key to managing stress is providing individuals with the tools that will allow them to cope with situations that trigger stress. Resiliency is defined by how well an officer deals with stressors on the job and is to some degree a litmus test for how well a CO will handle situations that may arise on the job. To assist COs with increasing their resilience, the Wellness Center offers private one-on-one counseling sessions with staff psychologists and trained therapists.
CARE Staff Psychologist Dr. Alicia Delagdo-Agudio hopes that officers will gain a sense of mental, physical, spiritual and emotional peace after they visit the Wellness Center. She admits it is challenging to get officers to understand how important it is for them to take care of themselves: "The hardest part of my job is getting employees to understand the importance of self-care and that as a psychologist, I am not here to get them in trouble or judge them, but to provide them with tools and coping skills to handle the daily stressors of their jobs."
Dr. Delgado-Agudio's favorite space in the center is the gym. Personally, she gets a good feeling seeing the gym utilized by so many officers. Professionally, she knows that exercising is a great way to decrease stress, anxiety and depression.
She points out that "employees may not realize that they are not only working on their physical well-being, but by exercising, they are working on their mental well-being also."
CO Health Study by Ed Praetorian on Scribd
---
About the author
Latima Johnson is the press officer with the NYC Department of Correction's Office of Public Information.