Confusion, finger pointing after murder convict released
La. DOC officials, district attorney and sheriff dispute responsibility for the release of Michael "Ma-Man" LeBlanc who was awaiting sentencing for second-degree murder
---
By David Mitchell
The Advocate 
BATON ROUGE, La. — Local and state officials are blaming one another Tuesday after it emerged a Donaldsonville man who had been convicted of second-degree murder more than five years ago but not sentenced was mistakenly released from jail.
Michael "Ma-Man" LeBlanc, 41, was convicted of second-degree murder for the brazen shooting of Adoriji "Teenie Weenie" Wilson in 2014.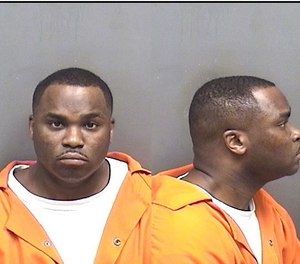 Under state law, that conviction should have meant a mandatory life sentence but LeBlanc has never been sentenced in Ascension Parish for reasons that remain unclear.
In comments to WAFB Tuesday, Ascension District Attorney Ricky Babin put the blame directly on the state Department of Corrections, while Sheriff Bobby Webre also expressed his frustration over LeBlanc's release.
But state corrections officials, in a nighttime response, countered that LeBlanc was no longer their inmate after his release from state custody May 13 upon completion of his sentence for an earlier gun possession conviction. He was then turned over to Madison Parish custody for pretrial detention over drug and contraband charges in that parish.
LeBlanc had finished his state sentence in May for an earlier gun possession conviction in Ascension.
The state agency said the sheriff's office in Madison Parish did have an Ascension Parish detainer on LeBlanc for his murder conviction in the parish but released him on Nov. 30 from the Riverbend Detention Center after he finished the time for the Madison Parish charges on credit for time already served.
Ken Pastorick, a spokesman for the state department, refused to say Tuesday why LeBlanc's murder conviction in Ascension didn't trigger him to be routed back to state custody but said it was Riverbend authorities' responsibility to send him back to Ascension Parish and they didn't.
When asked, Pastorick would not say what role the failure to sentence LeBlanc to the mandatory life sentence for second-degree murder might have had in reverting him to state custody but suggested those are questions for District Attorney Babin.
Babin's spokesman did not return an email comment Tuesday from The Advocate and has a practice of not responding to the paper's inquiries about his office.
The state department's statement counters comments from Sheriff Webre, who reported that LeBlanc had been released into the public in May. LeBlanc was only released from state custody then but remained in law enforcement custody until Nov. 30, according to the department.
On Tuesday, Ascension Parish sheriff's deputies were actively looking for LeBlanc, and Webre said the public should consider LeBlanc armed and dangerous given his criminal history.
Sheriff's deputies didn't receive indications until Monday — from a member of the public — that LeBlanc may have been seen in Donaldsonville, where he formerly lived before his incarceration.
Webre said deputies later confirmed to their surprise that LeBlanc had been released.
"Now why? That's the question. We don't know why he was released," Webre said in an afternoon news conference in Gonzales.
The sheriff added that LeBlanc never reported to his parole officer after his release.
The Louisiana Parole Board has issued a warrant for LeBlanc's arrest, state corrections officials said.
Webre said state probation and parole officers are trying to help his deputies find LeBlanc.
The state district judge who presided over LeBlanc's murder case also issued an order this week for him to be arrested and brought back to his court.
"So, it's just unfortunate that it happened, but we want to make sure that Michael LeBlanc is not on the run again. We want to make sure that Michael LeBlanc doesn't hurt anybody else, and we want to make sure he's back in jail where he belongs and he's going to stay there for a long, long, long time," Webre said.
One of LeBlanc's current attorneys declined to comment Tuesday, saying they are still reviewing his trial transcripts and other court papers. LeBlanc still has his post-conviction appeal effort pending.
LeBlanc was convicted of second-degree murder in a judge trial without a jury.
Court minutes and papers show that, despite that conviction in September 2017, he still hadn't been sentenced as of Tuesday, more than five years later.
His case hit a number of defense and prosecution continuances, delays from COVID-19 and the death of his original defense attorney, court papers show.
The conviction has survived some early post-trial motions to the presiding judge.
When asked if the lack of a sentence could have contributed to LeBlanc's release, Webre suggested the prison system has a number of checks and balances that should have cued prison officials to the murder conviction and prevented him from getting out.
Webre said LeBlanc certainly should not have been released. At one point in the Tuesday news conference, he was asked if he was frustrated that LeBlanc had been released and that his office didn't learn about it until later from the public.
"It is frustrating. Besides being frustrating, it's alarming, and it should not have happened. And, if you think I'm frustrated, if you think I'm alarmed, what do you think about the victim's family," Webre asked.
Concealed by a hooded, fluorescent-green rain slicker, LeBlanc shot the 37-year-old Wilson on his porch as he hung out with friends in the city's "back of town" area.
Sheriff's officials at the time blamed the June 2014 shooting on retaliation in the local drug trade. Then-Sheriff Jeff Wiley, Webre's old boss, flatly called it a suspected hit.
The slaying along with others at the time sparked public concerns and community meetings about the alarming violence in the small Mississippi River city in Ascension's west bank.
Family members of Wilson said Tuesday they learned last week from the Madison Parish jail that LeBlanc had been released after he finished his gun possession sentence. The family members, who asked not to be named for fear of reprisal, say they are now fearful for their safety with LeBlanc on the loose.
In addition, one of the prosecutors' witnesses who testified against LeBlanc at his murder trial was his co-defendant. That person took a plea deal to the reduced charge of being accessory after the fact to the slaying. He admitted to hiding LeBlanc after the shooting.
When asked whether investigators have safety concerns for the co-defendant or others, Webre declined share any details but said his office has a plan for that.
At the time of LeBlanc's murder conviction, he had at least four other felony convictions, had previously been declared a habitual offender and had a lengthy violent criminal history going back to the late 1990s, court papers show.
In December 2015, nearly two years before the murder conviction, LeBlanc was convicted of being a felon in possession of firearm from a prior incident and later received an 18-year prison sentence.
Webre said LeBlanc was paroled after completing that sentence with good time.
___
(c)2022 The Advocate, Baton Rouge, La.
Visit The Advocate, Baton Rouge, La. at www.theadvocate.com
Distributed by Tribune Content Agency, LLC.
McClatchy-Tribune News Service