6 steps to building a peer support program in corrections
Peer support is an effective means of getting help to officers in need, from other officers who understand their problems
---
By James Dudley, C1 Contributor
Recent research shows two kinds of negative influences affect officers: Organizational and environmental. Stress that is allowed to fester unabated may lead to drug abuse, alcoholism, anger, burnout, depression, misconduct or harm to the individual or others.
Peer support teams were conceived in part to provide an alternative for officers before mounting worry and stress negatively affected them on the job and at home.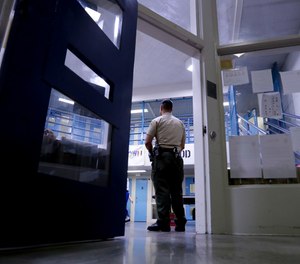 It is essential to have credible and reliable officers who can abide by confidentiality protocols. Officers selected for a peer support program must be approachable and discreet. Training is a key aspect of a successful program. Officers are trained by mental health care professionals to listen, and provide support and practical assistance, with referrals to professional mental health care when needed.
Dr. Ellen Kirschman is a noted psychologist in law enforcement mental health programs. She believes that peer supporters are valuable because they have "walked in the other person's shoes." She cautions though that, "Serious mental health concerns, e.g., suicidality, should be referred to a mental health professional."
Kirschman trains police officers in California with the California Peace Officers' Standards and Training (POST) programs. She stresses the importance of the selection process of PSP candidates and the need for them "to be credible to their fellow employees, not struggling with their own issues, and able to hold confidentiality." Having a mental health professional (MHP) on hand to work with them, conduct training, answer questions and monitor issues is also important.
The effectiveness of a PSP may vary from agency to agency, based primarily on anecdotal evidence (by design) but may also be gauged by utilization numbers. The International Association of Chiefs' of Police (IACP) Psychological Services Division developed a Peer Support Guidelines policy in 2016 with priorities and standards listed for agencies that are creating new programs, or for those with already established programs (IACP Psychological Services Division, 2016).
Kirschman says that PSPs should track the number of contacts, recurring issues, time spent and the number of referrals made. Tracking is useful not only in terms of hours devoted to peers, but also to identify emerging issues and trends such as alcohol or drug abuse, family issues, work-related trauma, critical incident responses and so on. Once a trend is identified, it may be used to allocate additional resources or training.
How to create a peer support program
There are six essential pillars to every successful peer support program:
Confidentiality
Confidentiality has been cited as critical to a successful program in order to build trust and confidence. A break in confidentiality will likely deter those fearing the stigma of reaching out for psychological support. Confidentiality and privacy must be maintained from the peer support officer to the chief or sheriff of the organization.
Administrative support
The adopting agency must have buy-in from leadership and command staff. One point of contact should assist in creating policy and general orders, securing funding, training and in acquiring personnel. Importance should be placed on securing a credible and competent program director. The director should understand the value of the program as a priority and be able to articulate vicarious liability and responsibility to train, to members of command staff.
Professional mental health professional (MHP) support and guidance
The MHP is important at all stages of the Peer Support Program from development of guidelines and policy, to the selection of peer support members, to advising and conducting training and as a conduit to mental health resources and services.
Personnel selection
As Kirschman noted, members of the PSP should be seen as credible, competent and trustworthy. They should be free of their own struggles or issues and adaptable to training. Candidates may apply, be nominated by rank and file, or they may be selected by the PSP director. Members should be regularly assessed throughout training and at regular intervals. There needs to be a mechanism to remove peer supporters who cannot conform to guidelines.
Training and support
MHPs should be aligned with training to ensure that members are in accordance with approved mental health guidelines as well. Pitfalls should be addressed and revisited to ensure PSP members do not over-identify with their peers, do not try to solve problems, do not cover-up criminality, 'fix' things, or advocate for an individual. Training should address active listening, staying neutral, understanding trauma, and watching for signs of suicidality or substance abuse.
Reviews and audits
As with any policy or program, assessments and reviews are necessary to maintain an effective program. Utilization numbers, training, and monitoring peer members should be evaluated. In-house audits should be supplemented with a neutral outside auditor for objectivity.
Conclusion
Working in law enforcement today may be more stressful than ever, due in part to the negative scrutiny from social media, politicians and special interest groups. Studies show that PSPs are effective in addressing problems and applying resources to help others in their peer group. Peer group participation in behavioral health has shown to "Improve quality of life, improve engagement and satisfaction with services and supports, and improve whole health." In addition to one-on-one peer support, PSPs have been found to be useful in after action debriefings at critical incidents and traumatic events. They have been participants in return to duty procedures, as well by assisting a transition from a critical incident to preparing for duty.
Peer support is not a silver bullet to solve all the problems facing today's correctional officers. It is, however an effective means of getting help to officers in need, from other officers who understand their problems.
---
About the author
James Dudley is a 32-year veteran of the San Francisco Police Department where he retired as deputy chief of the Patrol Bureau. He has served as the DC of Special Operations and Liaison to the Department of Emergency Management where he served as Event and Incident Commander for a variety of incidents, operations and emergencies. He has a Master's degree in Criminology and Social Ecology from the University of California at Irvine. He is currently a member of the Criminal Justice faculty at San Francisco State University, consults on organizational assessments for LE agencies, is a Police1 columnist and co-hosts PoliceOne's Policing Matters podcast.