House lawmakers thwart discussion of changes to protect Iowa prison staff
On March 23, 2021, a correctional officer and nurse were murdered by two inmates at the Anamosa State Penitentiary
---
By James Q. Lynch
The Gazette
        
DES MOINES — A Democratic proposal to protect Iowans working in prisons was thwarted Tuesday by majority Republicans using procedural moves.
During debate of $652 million in funds for several departments covered by the justice systems appropriation, Democrats offered an amendment to address working conditions in Iowa prisons. On March 23, 2021, a correctional officer and nurse were murdered by two inmates at the Anamosa State Penitentiary.
"I think we want to at least continue this discussion of doing something meaningful for the people who work in our criminal justice system, in our prisons, dangerous, sometimes thankless jobs," said Rep. Todd Prichard, D-Charles City.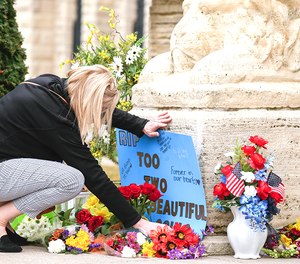 His proposal called for defining health care personnel at prisons as public safety officers so they would have more collective bargaining rights, increasing penalties for assaults on correctional employees, raising funding for contraband surveillance and providing paid time off for prison employees who witness traumatic events.
[MORE: Family members of slain CO push for bills to reclassify prison staff]
"This amendment should not be political," Prichard said. "These ideas are not presented for any other reason but just to make this prison safe for the people who work there."
However, his amendment was ruled not germane or relevant to House File 2599 and an attempt to suspend the rules to consider it failed on a party-line vote.

(c)2022 The Gazette (Cedar Rapids, Iowa)
McClatchy-Tribune News Service