Trials reset for inmates charged with killing Iowa prison employees
Both men have pleaded not guilty to charges stemming from a March incident that left a corrections officer and a nurse dead
---
By Trish Mehaffey
The Gazette, Cedar Rapids, Iowa
ANAMOSA, Iowa — One of the inmates charged with killing an Anamosa prison officer and a registered nurse in March will now have a trial in August in Jones County and the other inmate will have a trial in September in Linn County.
Michael Dutcher, 28, over the weekend decided to waive his right to a speedy trial. His trial will start Aug. 3 and remain in Jones County District Court.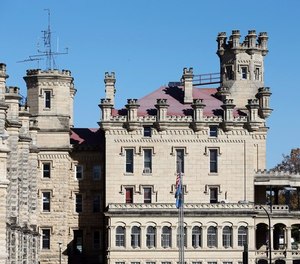 Thomas Allen Woodard, 39, over the weekend asked the court to continue his trial, which previously was set to start next Tuesday in Linn County. His lawyers, in the motion, said they needed more time to take depositions, receive additional discovery and review evidence.
Assistant Iowa Attorney General Scott Brown and Jones County Attorney Kristofer Lyons did not resist the motion.
Sixth Judicial District Judge Fae Hoover reset Woodard's trial to Sept. 21 in Linn County District Court.
Last Friday during a hearing, Dutcher demanded his speedy trial and wanted the trial moved to another county.
The continuance for Woodard wasn't filed until Saturday.
Both men have pleaded not guilty to charges of first-degree murder, second-degree kidnapping and attempted murder.
The two inmates are accused of killing correctional officer Robert McFarland, 46, of Ely, and nurse Lorena Schulte, 50, of Cedar Rapids, during what authorities said was a failed attempt to escape from the Anamosa State Penitentiary on March 23.
According to court documents, the inmates are accused of attacking the two prison workers with hammers. McFarland and Schulte suffered severe head injuries. Another inmate, McKinley Roby, suffered injuries to his head while he attempted to help staff members.
The assault started about 10 a.m. when Woodard and Dutcher went to the infirmary under the pretense of fixing something, Iowa DCI Special Agent in Charge Rick Rahn has previously said.
The men had access to hammers and a metal grinder because they had checked them out from the prison maintenance area. They were being supervised by McFarland.
(c)2021 The Gazette (Cedar Rapids, Iowa)
McClatchy-Tribune News Service