Ala. lawmaker renews call for new guidelines on whether to grant paroles
The legislation would create oversight of the board without taking away its independent decision making process
---
By Mike Cason
al.com
MONTGOMERY, Ala. — An Alabama lawmaker is renewing his efforts to bring scrutiny to the Alabama Board of Pardons and Paroles, which rejected parole for 90 percent of eligible inmates last fiscal year, the fifth straight year for paroles to decline and the highest rejection rate during that time.
Rep. Chris England, D- Tuscaloosa, is sponsoring a bill to create guidelines for the three-member board to follow in deciding whether to grant parole. The guidelines would not be mandatory. But the board would have to give a detailed explanation when it deviated from the guidelines to deny parole.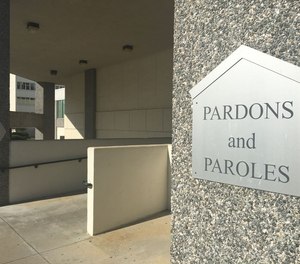 England said the legislation would create oversight of the board without taking away its independent decision making process. He said the goal is for inmates to get a meaningful review of whether they are good candidates to be released under supervision, which he said is not happening.
"As a result, we're seeing an aging, more expensive, inefficient and ineffective prison system where resources are being used to take care of people who are no longer a threat to public safety at the expense of those resources being used to rehabilitate or to create space for those who really need to be incarcerated, those who are a threat to public safety," England said.
As an example, England mentioned the board's denial of parole in January for a 71-year-old-woman who had served 19 years of a 35-year sentence for murder and who uses a wheelchair, is on dialysis three times a week and in end-stage renal failure. Her lawyer argued for her parole so she could spend her final days in a nursing home.
"Instead of releasing that person to their home where they could get somebody else to care for them and get better care, where we don't have to pay for it, we kept them in," England said. "Which means that now we've got a spot for a person who is not a threat taking a spot away from a person who could be a threat."
Alabama's prisons are overcrowded and severely understaffed. The Department of Justice alleged in a lawsuit filed in December 2020 that conditions in the state's prisons violate the constitution because of the violence, weapons, drugs, and mismanagement. The case is ongoing.
England filed his bill in advance of the legislative session, which starts in three weeks. It would create the Criminal Justice Policy Development Council, an eight-member board that would develop parole guidelines. In cases when the parole board deviated from the guidelines to deny parole, inmates could appeal to the Alabama Court of Criminal Appeals, which would have the final say.
England sponsored a similar bill last year. It won committee approval but did not pass the House.
"I'm hoping that we'll move it further this year and hopefully inspire some real conversations about having a meaningful parole system is just as much of a key component to maintaining public safety as incarcerating citizens is," England said.
In addition to developing the parole guidelines, the council would update the inmate classification system for the Alabama Department of Corrections and adopt a validated risk and needs assessment felony offenders in prison.
The Board of Pardons and Paroles already has parole guidelines adopted in 2020 but followed those only 30 percent of the time last fiscal year, according to the agency's statistical report.
Victims of Crime and Leniency (VOCAL), an advocacy group started in 1982, and the attorney general's office often oppose parole. VOCAL has noted the increased proportion of the prison population classified as violent offenders as a factor in the decline in paroles. According to the Alabama Sentencing Commission's 2022 Annual Report, 83 percent of the Alabama inmates were convicted of violent offenses.
England said the system won't work if the parole board rejects those with violent offenses as a matter of routine.
"We don't have a parole board that's there to just make easy decisions," England said. "The reason that we have that parole board is so they can assess whether or not that person is the same person they were 10, 15, or 20 years ago, and if they're a threat to public safety. If they're not, then it makes sense for us to release that person into a more appropriate setting so we can find ways to effectively spend the resources we have."
England's bill says the Criminal Justice Policy Development Council would create new guidelines based on:
The risk to reoffend based on a validated risk and needs assessment.
Progress by the prisoner in complying with the Alabama Department of Corrections' plan for reentry.
Input from victims, the family of victims, prosecutors, and law enforcement entities.
Participation in risk-reduction programs while incarcerated.
Institutional behavior of the prisoner while incarcerated.
Severity of the underlying offense for which the prisoner was sentenced to incarceration.
Any interview or statement from the prisoner.
Alabama inmates don't appear at parole hearings, held at the board's headquarters in Montgomery. Lawyers, relatives, and other advocates for inmates can speak to the board. Those opposed to parole, including prosecutors, victims and relatives, and victims' advocates, can also speak.
If England's bill became law, members of the Criminal Justice Policy Development Council would be the executive director of the Alabama Sentencing Commission, the commissioner of the Alabama Department of Corrections, the director of the Alabama Bureau of Pardons and Paroles, the director of the Legislative Services Agency, the chairs of the House and Senate judiciary committees, and two members of the minority party picked by the House and Senate minority leaders. The Democratic Party is the minority party.
England is also sponsoring a bill to require a unanimous vote by a jury to impose the death penalty during the sentencing phase in capital cases. Current Alabama law requires a 10-2 vote by the jury to impose the death penalty.
©2023 Advance Local Media LLC.
Visit al.com.
Distributed by Tribune Content Agency, LLC.
McClatchy-Tribune News Service