Automated probation check-ins, alcohol monitoring arrives in South Texas
The AB Kiosk system can coordinate up to 30 alcohol screenings and check-ins per hour
---
By Corrections1 Staff
SINTON, Texas — San Patricio County has become the first county in Texas to use the AB Kiosk system for probation check-ins and alcohol monitoring, the manufacturer announced in a statement last week.
According to Minneapolis-based Precision Kiosk Technologies, San Patricio Community Supervision and Corrections (SPCSC) has installed the system in the lobby of its headquarters and is now conducting remote check-ins with a group of 450 low-risk clients.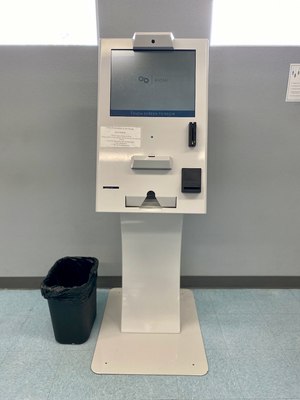 "Our goal with this system is to efficiently monitor hundreds of our low-risk clients while holding them to a high level of accountability," says Jason Woods, director of probation at SPCSC. "In addition to reducing the risks of COVID transmission between staff and clients, the AB Kiosk will also enable our probation professionals to intensify their supervision of higher risk probation populations."
According to the company, the system automates the entire probation check-in and alcohol-monitoring process, from appointment coordination and breathalyzer administration to video recording and reporting. It can also be utilized to monitor participants in diversion, treatment and work-release programs.
Consisting of two integrated components – an interactive stand-alone kiosk and the client-management software program – the AB Kiosk system can conduct up to 30 alcohol screenings or probation check-ins per hour.
Other specifications for the kiosk include:
Wall or pedestal mounted
Intuitive touchscreen
Secure biometric identification via fingerprint authentication
Video and photo capture
Cash and credit card payment
Print, email and text receipts.
Via the client-management software, supervisors can monitor their clients and programs from their desktops, laptops or smartphones, and generate reports in just three clicks.
The software also:
Coordinates randomized and scheduled tests
Sends email and text notifications to clients
Creates probation questions and manages responses
Issues alerts for failed or missed tests.
"More than 40 jurisdictions across the U.S. now use the AB Kiosk system to fully automate their alcohol monitoring programs and probation check-ins, and we are happy to have San Patricio County Corrections as our first client in Texas," says Patrick McKinney, general manager of Precision Kiosk Technologies. "Not only will this system enable SPCSC to keep high- and low-risk probation clients separated, but it will also enable their staff to focus their time and energy on higher-value corrections work."
For more information, visit ABKiosk.com.