Communications faulted in N.Y. manhunt for Ralph "Bucky" Phillips
---
By CAROLYN THOMPSON
The Associated Press
Related: Ralph "Bucky" Phillips captured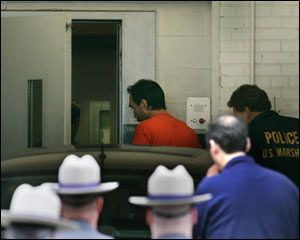 Former fugitive, Ralph "Bucky" Phillips, center in orange, is escorted by U.S. Marshals into the U.S. District Court House in Buffalo, N.Y., on Sept. 9, 2006. Phillips, suspected of fatally shooting a state trooper and wounding two others made his first court appearance hours after surrendering in a field over the Pennsylvania state line following a five-month manhunt. (AP Photo/Carolyn Kaster)
BUFFALO, N.Y. — Unclear instructions and radio problems hindered the massive manhunt for a fugitive who killed one trooper and wounded two others before his recapture, according to a state police review issued Friday.
The internal report also said last year's search for Ralph "Bucky" Phillips relied too heavily on an elite unit of the New York State Police. But, it said, none of the problems significantly affected the hunt's outcome.
Phillips was captured Sept. 8 in a field near the Pennsylvania line, five months after escaping from a jail near Buffalo. While on the run, he shot one state trooper during a traffic stop and two others who were staking out his ex-girlfriend's home. One of the troopers died.
The search involved nearly 1,400 members of the state police, along with hundreds of officers from other agencies.
The review said field commanders did not clearly communicate instructions. It also said deficiencies within the state police radio system - and the belief that Phillips and acquaintances were monitoring dispatches - led commanders to use cell phones to convey assignments, a decision the report called "an error."
Based on 1,390 interviews, the review also found commanders leaned too much on the state police Mobile Response Team, whose members were not always immediately available to pursue sightings of Phillips and other major leads.
"Some apprehension opportunities may have been lost because immediate MRT response was not a practical expectation," the report said.
Changes have been recommended to avoid future problems, it said.
The troopers union, which has criticized search decisions by local commanders in western New York, said Friday it had not yet seen the report and had no immediate comment.
Phillips, 44, is serving 40 years to life in prison.