PRESS RELEASE
Enforcement Technology Group, Inc. (ETGI) Unveils The Wireless Remote Audio Perimeter Sharing (WRAPS) System
---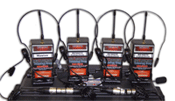 end picture
Enforcement Technology Group, Inc. (ETGI) leaders in the research, development, and distribution of innovative Critical Incident/Crisis Response Management technologies are proud to introduce the Wireless Remote Audio Perimeter Sharing (WRAPS™) System.
The WRAPS™ System was developed to provide a communications solution to a multitude of law enforcement and military applications requiring the need for a self-contained, wireless, full-duplex audio communications and/or remote audio data sharing such as: Critical Incident/Crisis Response Management, Hostage/Barricade/Suicide/Standoff Situations, Surveillance/Intelligence Audio Sharing, Training Scenarios, and Much, Much More.
WRAPS™ System Features:
Self-Contained Wireless Communications Field:
Allows for operations when responding to situations in which  traditional communications system infrastructure have been damaged or destroyed. No FCC license is required for operations. 
Full-Duplex Communications:
Allows up to (4) Crisis Response Team (CRT) staff members to "talk" and "listen" to one another to discuss response strategies.
Remote Audio Sharing/Interoperability:
The System is delivered with a Neutrik-to-RCA Junction Box that can be connected to virtually ANY audio monitoring or recording device that features an RCA OUT port. When connected to an RCA  compatible device, up to (3) different team member's  located within 1,000 ft. (+/-) of the MASTER Audio Transceiver can monitor the audio transmission as well as simultaneously "talk" and "listen" to one another to develop an appropriate response strategy.
Security:
Full-Duplex Communications and Audio Sharing are secured through digital frequency hopping/spread spectrum transmission.
Internal Rechargeable Battery Powered:
When fully charged, the WRAPS™ System can be powered by its internal battery for approximately 7-8 hours.
For complete information about the WRAPS System and other innovative/unique Critical Incident/Crisis Response technologies, please register for access to the "Secure Area" of ETGI's website by visiting:  http://www.etgi.us/register.php.