PRESS RELEASE
ETGI Launches New Direct-Link LifeLine™ Series Crisis Communications System!
---
use if there is a picture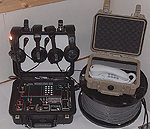 end picture
Enforcement Technology Group, Inc. (ETGI) leaders in the research, development, and production of cutting edge Critical Incident/Crisis Response Management equipment, are proud to introduce the Direct-Link LifeLine™ Series Crisis Communications System.  The Direct-Link LifeLine™ System was developed utilizing the feedback and suggestions from members of the International Association of Hostage Negotiators seeking an affordable Crisis Communications System that could provide them with multiple options to establish communications with a barricaded subject involved in a hostage, barricade, suicide, or standoff situation.
The Direct-Link LifeLine™ System achieves these goals by providing:
Throw Phone Communications:  Allows the Crisis Negotiation Team (CNT) to establish a direct link of communications with the barricaded/suicidal subject(s).  The Throw Phone comes standard built inside a rugged, "tactically sound" Pelican® case. The Throw Phone is hardwired to a 100 ft. cable lead, the first 50 ft. of the Throw Phone's cable lead is encased in a cut-resistant sheathing to provide added protection when introduced into dangerous environment. 
Landline Communications:  Allows the CNT to connect a traditional telephone landline into the LifeLine™ System.  Once connected, the CNT can place an outgoing call through the LifeLine™ System to the subject's landline (house phone) or cellular phone to negotiate.
Cellular Phone Communications with Conference Call Capability:  In the event that a traditional telephone landline is not available, the CNT can connect a cellular phone equipped with a handset accessory port into the LifeLine™ System to negotiate.  Similar to the landline communications feature, the cellular communications feature is "conference call" capable to allow for the introduction of a 3rd party intermediary into the negotiations. 
Landline/Cellular to Throw Phone Link:  Allows the CNT to introduce a 3rd party intermediary to be into the negotiations AFTER the throw phone has already been deployed to the subject!
Residential Landline Capture (Optional): The ultimate tool for establishing immediate and critical landline communications.  The landline capture feature allows the LifeLine™ System to be connected "directly" into the barricaded residence's telephone system.  Once the connection has been made, CNT can simultaneously ring up to (6) telephone lines inside of the residence, thus eliminating the need to contact the telephone service provider to issue a new line or telephone number.  Should the barricaded/suicidal subject(s) attempt to make an outgoing landline call from the "captured" telephone line, the call is automatically directed to the Life-Line's Command Unit Console, which completely disables the subject's ability to make outgoing landline calls to unauthorized persons!
 LifeLine™ System's Command Unit Console is also built inside rugged Pelican® brand case with internal rechargeable battery.  Command Unit Console is equipped with multiple ports to allow for negotiations taking place over the system be shared by multiple team members as well as recorded for evidence and training purposes.  The lid of the Command Unit Console also features a removable dry-erase board for immediate note taking.
With a special introductory price of $4,995.95 the Direct-Link LifeLine™ is one of the most affordable Throw Phone System's available and is delivered with everything a Crisis Negotiation Team needs 1,000 ft. of Throw Phone/Extension Cable with Quickwinder Storage/Transport Reel, (2) Primary & Secondary Single-Cup Hostage/Crisis Negotiator Headsets with Fully Adjustable Volume Control, Dual-Cup Digital Stereo Monitoring Headphones, Wired Command Speaker, Digital Audio Recorder, Wall Outlet & Cigarette Lighter Port Power Cables, System and Accessory Transport/Storage Bags, and More!!!!
Due to the "sensitive" nature of some of the Direct-Link LifeLine™ System's features, complete information regarding the System can ONLY be accessed in the "Secure Area" of ETGI's website.  To register for ETGI "Secure Area" website access for complete Direct-Link LifeLine™ System information and to learn more about other Critical Incident/Crisis Response Management technologies offered by ETGI, please visit:  http://www.etgi.us/register.php or contact ETGI directly at 800-873-2872.