PRESS RELEASE
Peerless Handcuff Company Announces New Security Chain for Transport/Courtrooms
---
NEW PRODUCT ANNOUNCEMENT
Model PSC60 & PSC78 Security Chain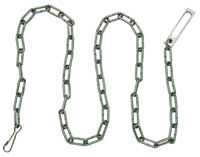 The Peerless Model PSC60 and PSC78 Security Chains are designed for corrections, transport and courtroom situations. When used in conjunction with a set of handcuffs and a padlock this simple chain quickly converts into a secure waist restraint. The specially designed end link is compatible with all commonly used handcuffs - Chain Link or Hinged. The end link can also be slotted into any link on the chain and will fit "Black" and "Blue" style security boxes. The 60 inch or 78 inch length and heavy duty clip allows for easy waist size adjustment. Nickel plated finish for added durability. Available in custom lengths as specified. Made in USA.
About Peerless Handcuff Co.:
Setting the standard since 1914. Peerless offers a full line of restraining devices including Standard Handcuffs, Hinged Handcuffs, Oversize Handcuffs, Leg Irons, and Waist Chains. Other products also include color plated restraints and high security restraints. All products feature all steel construction and are designed to meet or exceed federal and military requirements including the NIJ Standard 0307.01. Peerless restraints come with a lifetime warranty for manufacture defects. For more information, visit www.peerless.net.

Request more info from Peerless Handcuff Company
Thank You!