Sydaptic Inc provides video visitation designed with facilities in mind
InVision offers safety, security and convenience, and is economical and easy to use
---
By C1 Staff
Sydaptic Inc's InVision system is a video visitation system designed with corrections facilities in mind.
InVision utilizes network connections and sends both audio and video over the network. The call is controlled by the video visitation officer, who can enable and disable calls at the touch of a button.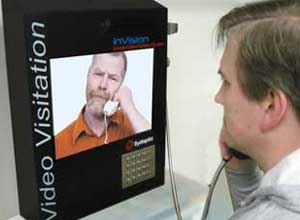 Both handsets must go off-hook for the session to begin. The session can be monitored from a secure location and optionally recorded.
Each kiosk has an intercom function which is connected to a help desk in case of questions or problems.
Session time is automatic, with remaining time appearing on the screen to both the inmate and caller. Once the time runs out, the session is automatically terminated.
Screen resolution with each unit is slightly below HD quality and the picture can be as high as 30 FPS for natural movement on a 15-inch screen.
For more information, check out the Sydaptic Inc website.