Best practices for disinfecting correctional facilities during COVID-19
While many facilities use outside cleaning businesses, here's what to do if those services are not available
---
By Noel McCarthy
At this point in the COVID-19 pandemic, it should be obvious that anyone can contract the coronavirus and no one is immune.
Of course, it has become clear that city dwellers, as well as others who live close to one another, are more likely to either transmit or be infected by the virus. Case(s) in point: Correctional facilities!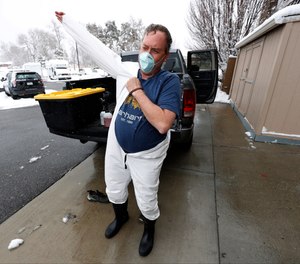 As Dr. Joseph Bick, of the California Department of Corrections and Rehabilitation, has pointed out:
While incarcerated, inmates are at an increased risk for the acquisition of airborne organisms [plus] tremendous opportunities exist for infectious diseases specialists and infection-control practitioners to have an impact on the health of correctional employees, the incarcerated, and [their] communities." [1]
Why You Need to Disinfect
With this in mind, and recognizing the fact that COVID-19 is still a virulent force throughout the world, your institution  ̶  whether federal, state, or local  ̶  should have cleaning protocols in place. You need to have written, step-by-step instructions for cleaning and disinfecting your facility.
Of course, you may have contracts with outside cleaning businesses in place, but be prepared for such businesses either being overwhelmed with requests or simply unwilling to enter your buildings and expose their workers to possible infection. 
It may come down to you and your colleagues, as well as members of the inmate population, taking on the job instead, and that means you should have access to the correct equipment. Your safety, and that of incarcerated individuals, depends on it.
You must have the most up-to-date, effective equipment available if you are to accomplish these cleaning tasks properly. And let's not overlook the importance of personal protective equipment. Among the areas you should focus on are:
Cells
Inmates probably spend as much, if not more time, in their cells than they do common areas. An efficient cleaning regimen should start with all the hard surfaces, such as bed frames, chairs/fixed seats, tables, door handles (if they exist), bars and window ledges, the inside surface of the cell door, and, of course, the floor.
If you can, try to persuade inmates that one of the best ways to protect themselves from the coronavirus is to wash their hands with soap and water as often as possible. 
If inmates are permitted televisions in their cells, then TV remotes should be added to the "must-clean" list. The same is true for laptops and/or keyboards. 
Regardless of the disinfectant used, all of these items should be sprayed and allowed to air dry. If that is done carefully and systematically, it should get rid of germs.
Also include items such as bed linens, pillows and any clothing inmates keep in their cells in your cleaning regime. Those soft items should go to the laundry as often as possible, although clothing needs to be handled with a little more care. For linens and pillows, instruct laundry room staff to use the highest possible water temperature they can and set the dryers on high. 
Kitchen facilities
There's a good chance that most kitchen facilities are staffed largely by inmates, although the supervisory staff may well be correctional officers. However it works in your particular institution, pay special attention to the cleanliness standards in these areas. Kitchens can be home to more than just viral pathogens; they can also harbor food-borne bacteria. 
Every light fixture, cabinet and appliance  ̶  including stoves, microwaves, refrigerators, freezers, toasters, dishwashers and particularly food preparation surfaces  ̶  need to be thoroughly cleaned and disinfected before and after each meal period.
Common spaces
Common spaces, generally used by both inmates and correctional staff, have myriad "touchpoints," all of which need to be cleaned and disinfected. Give special attention to entrance lobbies, doorknobs, handles, intercom systems, security locks and buttons, corridors and staircases, handrails/handles, call buttons, security guard booths and toilets.
Sweep floors of all refuse before disinfection. Avoid spraying disinfectant on items such as switch boxes/electric boxes, electric sockets and other electric appliances. Again, whichever brand of disinfectant you use (or whether you mix your own [3]), let all wet surfaces dry completely. In most cases, this should take no more than 15 minutes.
Bathrooms/shower areas
Thoroughly disinfected every hard surface including showers, toilets, clothing and towel racks, door handles, light switches, windowsills, and the walls and floors, especially around drainage areas. Don't forget faucets and showerheads, which are often overlooked. 
Regularly launder towels, washcloths, bathmats and floor towels. Remember, this is for the health and well-being of everyone in the facility. It's not a luxury; it's a health imperative. 
Laundry facilities
It's likely your facility's laundry will be manned by inmates who should be made aware of some useful pointers for the handling of dirty clothes, sheets, pillowcases and towels.
The Centers for Disease Control and Prevention (CDC) recommends the following guidelines [2]:
Launder items according to the manufacturer's instructions. Use the warmest appropriate water setting and dry items completely.
Wear disposable gloves when handling dirty laundry from a person who is sick.
Do not shake dirty laundry.
Clean and disinfect clothes hampers according to the guidance above for surfaces.
Remove gloves, and wash hands right away.
A Final (Few) Words from the CDC 
First, some advice on how to prevent COVID-19 from entering your facility:
Limit non-medical transfers in and out of the facility.
Screen all new entrants, staff and visitors before entering the facility.
Be on the lookout for symptoms and address them immediately.
Clean and disinfect the facility.
Reinforce good hygiene practices.
Use multiple social distancing strategies.
Communicate regularly.
Second, what to do if there are COVID-19 cases in your facility:
Activate your emergency plan and notify public health officials.
Give any person who is sick a face mask and separate them from others. 
Send sick staff home.
Quarantine any close contacts.
Screen for COVID-19 symptoms as part of release planning.
Restrict non-medical transfers in and out of the facility.
Cancel group gatherings.
Suspend visitation and provide virtual alternatives if possible.
Use multiple social distancing strategies.
Finally, stay well and safe.
References
1. Bick, JA. Infection control in jails and prisons. Clinical Infectious Diseases, 2007, 45(8), 1047–1055.
2. Centers for Disease Control and Prevention. CDC Guidance on Management of COVID-19 in Correctional and Detention Facilities.
---
About the author
Noel McCarthy has worked as a writer and editor throughout his career. A former director for Thomson Reuters, he also worked for PricewaterhouseCoopers for 17 years. Vice President of advertising for Sterifab, his expertise in disinfectants and bed bugs is a newfound hobby of sorts.