Iowa inmate attacks and stuffs clothing in officer's mouth
Two inmates heard the commotion and proceeded to help the officer
---
Corrections1 Staff
MOUNT PLEASANT, Iowa — An inmate at the Mount Pleasant Correctional Facility in Iowa was placed in segregation after he allegedly attacked a female officer early Monday morning, The Daily Iowan is reporting.
The incident happened about 3 a.m. inside the Mount Pleasant prison's sex offender unit when Antonio Mikhal Johnson, 24, stuffed a piece of clothing into the officer's mouth and wrestled her to the floor, said Fred Scaletta, a spokesman for the Iowa Department of Corrections, according to The Des Moines Register.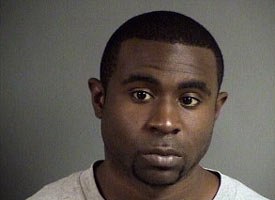 Two inmates heard the commotion and proceeded to pull Johnson off the officer. She then activated her emergency alert to summon help. Security staff responded, assisted the officer and provided additional control of the situation, Scaletta said.
The officer, who's name is not being released, was not physically injured, Radio Iowa reports.
"In this particular case, had inmates not heard or noticed the commotion, it could've been worse," Scaletta said.
Johnson is serving a 10-year sentence after being convicted of third-degree sexual abuse in a 2008 Johnson County case. According to online records, he was tentatively set to be released in April 2012.
Scaletta declined to say whether the officer, whose identity was not released, had been sexually assaulted. He said more details may be released as the prison investigation proceeds.
In Iowa, budget cuts have been forcing the closure of some prison living units, including one at Mount Pleasant.
The state's prisons employ slightly under 2,900 people to run nine correctional facilities. That's a reduction of 132 staffers since the state budget year began on July 1. At Mount Pleasant, counselors who provided sex offender treatment have also been laid off.
Scaletta said only one officer is normally assigned to overnight duty inside the sex offender unit, and that's been the case for years.
"The officer was performing normal responsibilities under normal operating procedures. That unit, as well as many other units, has always been staffed with one person at night," Scaletta said.
The Iowa Division of Criminal Investigation is looking into the incident. Medical and psychological staff are attending to the needs of the officer.
Request product info from top Corrections Body Armor companies
Thank You!