Judge recuses herself from murder case after La. inmate intimidated her from behind bars
Judge Tracey Flemings-Davillier said she made the decision "due to the court having received repeated threats"
---
By Matt Sledge
The Advocate
ANGOLA, La. — An inmate at Louisiana State Penitentiary at Angola with a pending murder case harassed an Orleans Parish Criminal District Court judge from behind bars, she said in a recusal order last month.
Judge Tracey Flemings-Davillier removed herself from the case of Keith Kisack, whom she had sentenced to life imprisonment as a habitual offender after he was found to have a cellphone inside Orleans Parish Prison.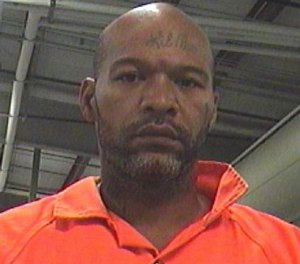 Kisack has been at Angola since his October 2014 sentencing, but Flemings-Davillier said he nevertheless managed to threaten her from prison.
In an Aug. 10 docket entry, the judge said she was recusing herself from the case "due to the court having received repeated threats and false accusations by the defendant and associates in an effort to intimidate the judge presiding over the case."
Flemings-Davillier said she had been the target of a letter to her home address, phone calls to the court requesting information about her, as well as Facebook posts from Kisack that "tagged" her.
The judge did not elaborate on the nature of the threats. A publicly available Facebook page and a blog site contain accusations of bias on her part — as well as promises to defeat her at the polls — but no threats to her physical safety. The letter to her home has not been made public.
Defense attorney Eusi Phillips, who represents Kisack in the murder case, said he did not know anything about the alleged threats.
One of the blog's administrators rejected the judge's allegations.
"Keith never threatened her. The family never threatened her. All we started doing was putting his case out there," said a woman identifying herself as Rochelle Kisack, a cousin of Keith.
In a telephone interview, the woman said Keith Kisack does not have Facebook access. Rather, she and other relatives maintain that page and the blog, she said.
Still, the state Department of Public Safety and Corrections said it is disciplining Kisack.
"It is against department policy for inmates to establish or maintain any social media account," said spokesman Ken Pastorick. "Because of his participation on social media, inmate Kisack has been placed in segregation. Kisack has also lost yard and phone privileges for six weeks as part of his discipline."
The recusal order is the latest twist in legal proceedings that have dragged on for almost nine years since Kisack's indictment on second-degree murder. The grand jury charged him with murder in October 2009, but he has never been tried on that count.
A defense attorney filed a motion to have Kisack's mental competency examined in 2010, though it was later withdrawn. Kisack was still awaiting trial the next year when deputies conducting a shakedown of the old Orleans Parish Prison found a cellphone hidden in the wall.
Text messages and a "selfie" connected Kisack to the contraband phone.
Prison authorities try to channel jail calls through official phone banks to prevent witness intimidation. Those calls are recorded, unlike chats on contraband phones.
It also was revealed that Kisack's former defense attorney, City Councilman Jason Williams, had received text messages that Kisack sent from jail. Williams testified at Kisack's 2014 contraband trial that he had no way of knowing whether the holiday greetings and other messages came from Kisack or a family member.
A six-person jury deliberated for less than 15 minutes before convicting Kisack.
A contraband charge usually carries a maximum five-year prison sentence. However, District Attorney Leon Cannizzaro's office deemed Kisack a habitual offender, ratcheting up his penalty from a minimum of 20 years to a maximum of life.
Kisack had prior convictions for gun charges, aggravated battery, robbery and kidnapping, along with illegal possession of a stolen auto and resisting an officer.
Flemings-Davillier opted for the maximum sentence.
Kisack won a shot at a shorter sentence in October, when the Louisiana Supreme Court ruled that the judge had erred in skipping over a required 24-hour sentencing delay after denying Kisack's motion for a new trial.
Although those delays are usually nothing more than a formality, the Supreme Court held that given the life sentence Kisack received, "it is difficult to conclude the error is harmless." It tossed the case back to Flemings-Davillier.
Since then, the Facebook page and blog site have alleged that Flemings-Davillier is the cousin of a woman who was involved in a romantic relationship with Kisack. They claim that the judge was prejudiced against Kisack because the woman's relatives were upset about the relationship.
The blog administrator said Kisack's family started the social media campaign because they were disappointed that defense attorneys did not publicize the claims.
The blog and Facebook page offer no evidence to support the claims that Flemings-Davillier is biased. Efforts to contact her alleged cousin were unsuccessful on Monday.
Flemings-Davillier rejected the prejudice claims in her recusal order. She also noted that Kisack was convicted by a jury, not by her.
"This judge inherited this case when elected to the bench. This judge had no knowledge of the defendant or his cases before then, and to date has no personal knowledge about defendant's personal life, background or family," she said. "The judge has no knowledge of this defendant or his false claims."
The murder and contraband cases have now been transferred to Judge Franz Zibilich. Kisack was set to appear in court Monday, but he was not transported from Angola to New Orleans.
The District Attorney's Office said it is proceeding with the long-delayed murder trial. Kisack is accused of killing Brandon Morgan, 26, on July 2, 2009, in the 6300 block of Hayne Boulevard in New Orleans East.
"Morgan is believed to have been a bystander struck during a shootout between Kisack and a drug dealer he was attempting to rob," said Ken Daley, a spokesman for the District Attorney's Office.
Prosecutors presented Kisack with a plea offer of 40 years in January but he rejected the offer, according to court minutes.
Zibilich scheduled a Sept. 24 status hearing for the contraband and murder cases. He may be in for social media scrutiny, too, if the Facebook page in Kisack's name is any indication.
The page, which says its posts come "via the Kisack family," includes a promise to "investigate any judge that may sit on this case, until the full scope of this judicial system is exposed."
McClatchy-Tribune News Service