Poll call: What COs said were the biggest challenges for corrections in 2022
It is not a surprise that COs are most concerned about retention, as they know short staffing is the root of all problems in corrections
---
Corrections officers overwhelmingly chose "CO retention" as the top challenge for corrections officers in 2022 in a recent Corrections1.com poll.  
The choices for poll respondents were:  
CO retention (52%) 

CO recruitment (28%) 

CO mental health (8%) 

Physical safety on the job (8%) 

Lack of public support (5%) 
Though a distant second to CO retention (52% of responses), CO recruitment was selected by 28% of participants. A jaw-dropping 80% of participants chose either retention or recruitment, far more than the 55% of 2021 poll respondents who chose the combination of "recruitment and retention."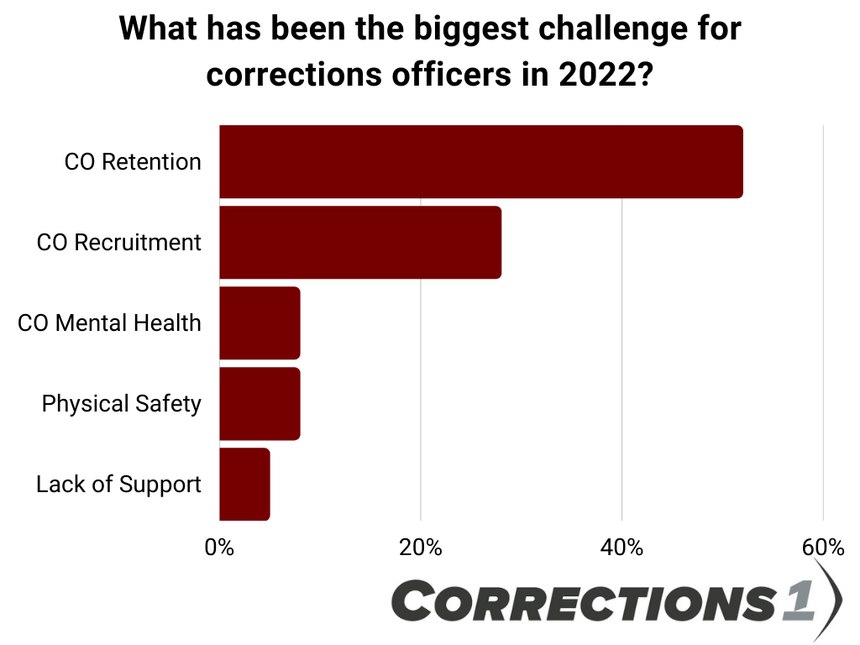 City, county, state and federal correctional leaders are taking notice of the significant retention problem in the profession by offering bonus pay for experienced COs. In early 2022 the Federal Bureau of Prisons was considering a 25% retention bonus, on top of a just-awarded 10% retention bonus. In July, Johnson County, Kansas approved retention bonuses up to $3,000 for corrections department personnel due to a labor shortage.  
Many factors have led to the current retention crisis, and it will take more than bonus pay to reverse the trend. To do their job well and safely, COs need safer working conditions. More and better training on de-escalation, improved mail scanning and contraband detection, increasing video surveillance and inmate tracking, and adding more COs can improve CO retention in 2023.  
COs also need competent leaders who lead with honesty, transparency and integrity. Far too often public safety personnel report that poor leadership is the top obstacle to their job performance. You've probably heard the quip, "people don't quit bad jobs, they quit bad bosses" and with lots of options to lateral transfer to another correctional facility or into law enforcement COs should not tolerate a bad boss in 2023.  
The recruitment challenge is forcing jail and prison hiring managers to try innovative approaches. Splashy social media campaigns and engaging recruitment videos are becoming the norm for the profession. Make sure to check out the top correctional officer recruitment videos of 2022 and vote for your favorite.  
Finally, just because only 8% of respondents chose CO mental health doesn't mean it is not of critical importance to retention, recruitment and officer safety. Society asks a lot of correctional officers who each day face stresses and strains few people can imagine. Leaders must put the physical safety and mental health of their COs ahead of all other priorities. COs who are safe, competently led and regularly managing the stress of the occupation can be counted on to fulfill the obligations of their position.  
We want to hear from you. What is helping or harming retention at your facility?  
Readers Respond
Destruction of retention
A combination of bad policies and incompetent leaders have led to the destruction of retention at my facility. My department is like most other correctional facilities around the country, we are doing more harm than good in regards to retention. In addition to the unprecedented number of resignations and voluntary demotions from all ranks, we are losing probationary and veteran staff to other professions or positions within the county. It appears as though the pendulum has swung so far to the inmates' side of things; leaving COs on survival mode. A prime example of this can be seen in the change to our daily operations. We have historically restricted inmate movement and over-scheduled COs every Wednesday in order to conduct hands-on training. We've gotten away from this practice and there are no longer any designated training days; leaving staff undertrained and frustrated. We have become completely reliant on online training as a substitute for real-life scenarios and hands-on training. When I've asked to facilitate hands-on training for staff, the response I received from our leader was, "at this time, we are not going into modified lockdowns for training."
We are a "client focused, employee driven department", but there is undoubtedly a double standard in our facility. Inmates are receiving stayed sanctions on top of stayed sanctions for violations as serious as assaults and using controlled substances, while staff are receiving written and verbal reprimands for not staring into an unoccupied cell long enough or not wearing a face mask immediately upon entering the building. No matter the profession or facility, there will always be those who are unfit for duty, but there was a point in time when credibility existed and COs were given the benefit of the doubt. I personally believe that society as a whole has developed a very negative view of correctional professionals and this has led to the current position of the pendulum. COs are now held to such an unachievable standard that a single mistake constitutes immediate grounds for discipline. We practice "restorative justice" for the inmates in our care because data has shown us that by immediately locking up or applying sanctions following a rule violation was not effective. Why are we not applying this concept to our COs who are not meeting the standards or are in need of guidance?
It is not enough to know just our names and give us raises, leaders need to genuinely care for the welfare of their staff. Showing concern for us builds trust and respect for you as a leader. Telling us that you care has no meaning unless you can prove it. If our leaders don't care about us daily, why would we trust for them to care when the going gets tough? Corrections as a whole, have forgotten that these fine men and women are willing to sacrifice holidays, anniversaries, birthdays and special life events for the next 15-25 years to provide their service to their community. In return, our leaders need to promise us that they are willing to do their best to make sure that we can get back to our families in the best shape possible.
- Minn. safety and training coordinator