5 things to know about Henry Lee Lucas
The Netflix docuseries "The Confession Killer" examines how serial killer Henry Lee Lucas earned the title of 'most prolific killer in America'
---
By Alexandra Wessling
Dahmer killed 16. Bundy killed 30. Gary Ridgway, the Green River Killer, killed 49. 
It's difficult to know for sure how many people a serial murderer has killed. Estimates fluctuate as killers confess or recant. Figures can be hard to confirm by DNA when victims are long buried or otherwise gone. Many killers, wanting to boost their reputations, may fudge their numbers a little.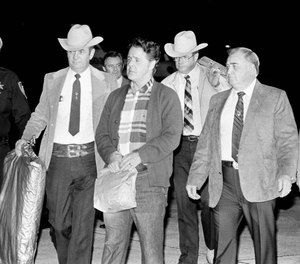 But no one has gone as far to cement their place in criminal justice history as Henry Lee Lucas ‒ who at one time claimed to have killed 600 people – and is now forensically linked to only three. 
Lucas is the subject of the Netflix docuseries "The Confession Killer," which explores how he manipulated law enforcement into believing his outrageous claims and examines how his lies were eventually brought to light. 
Here are five things to know about Henry Lee Lucas, once considered the deadliest serial killer in history. 
1. Henry Lee Lucas did commit serial murder…
Lucas was convicted of 11 murders, including his mother's, which marked the start of his killing career in 1960. However, even that figure is a matter of controversy, as it is contended that there is only evidence to indicate he was responsible for three of those deaths – his mother's, for which he served 10 years before being paroled in 1970, and those of an elderly woman, Kate Rich, and a teenage girl, Becky Powell. 
2. ...but not nearly as many as he confessed to. 
After his arrest by a Texas Ranger for unlawful possession of a firearm in 1983, Lucas confessed to the murders of Rich and Powell, whose deaths were still unsolved at the time. 
But what may have otherwise been a straightforward trial and conviction was thrown into chaos when, during his arraignment, Lucas asked the judge, "What are we gonna do about these other hundred women I killed?" 
Lucas shot to notoriety overnight. He also became Sheriff Jim Boutwell's claim to fame when investigators from other jurisdictions began inundating the jail with requests to talk to Lucas about crimes he may have committed elsewhere. 
With support from the Texas Rangers, Boutwell formed a task force dedicated to helping agencies in other jurisdictions identify whether or not Lucas could have been responsible for cold cases in their areas. 
Coaxed with a strawberry milkshake for every case he "cleared," endless cigarettes and free rein to wander the Georgetown, Texas, jail where he was being held, Lucas was kept in good spirits to cooperate with detectives who had booked appointments months in advance and traveled from all over the country to visit him.
The more unsolved cases detectives brought to him, the more Lucas' confessions grew – first 100, then 360 and ultimately settling around 600.
It seemed like a win for everyone: Detectives were pleased to be able to close cases, victims' families were relieved to find closure, and even Lucas himself, a transient with an IQ of 87, was enjoying his newfound stardom and the privileges he received from the larger-than-life Texas Rangers. 
"He liked to impress people with what he'd done," retired Texas Ranger Bob Prince said in one episode of the Netflix docuseries. "Instead of trying to hide what he'd done, he'd exaggerate what he'd done." 
The illusion lasted until 1985, when journalist Hugh Aynesworth, who had interviewed Lucas in jail, published an article detailing his suspicions about the veracity of Lucas' claims. Comparing the date and location of one murder to Lucas' whereabouts at the time, Aynesworth had traveled to Jacksonville, Florida, where Lucas had been employed. 
Records showed Lucas was at work only hours before the killing had occurred, several states over. 
"It was just ludicrous. Why would he travel 1,100 miles to kill a person he didn't know?" Aynesworth said.
This revelation led Aynesworth to a shocking conclusion: There was simply no way Lucas could be responsible for the number of murders he claimed. 
3. How did Henry Lee Lucas manipulate law enforcement so easily?
Lucas, a lifelong drifter with a near-photographic memory, was able to lend credibility to his claims by taking advantage of maps and photographs shown to him by investigators to lead them to crime scenes, describe his victims, where their remains were and how he killed them. 
"I walked in the room one time to talk to one of the Rangers, and [Lucas] was looking through one of the books that police departments sent to the task force," Aynesworth said in one episode. "They'd have [the] crime scene photos [in the books]. Well, the next day, here'd come the police, and [Lucas] knew what highway [the victims were found on], what the house looked like...sometimes I'd be there for several hours and they'd clear six cases." 
Despite criticism that Sheriff Boutwell and his task force had done poor police work and even fed Lucas the information necessary to confess, the now-retired Texas Rangers who worked with Lucas insisted they handled the unprecedented case as competently as possible under the circumstances. 
"You can't just walk in there and say, 'Okay, Henry, you've killed 300 people all across the United States, tell me the one I'm thinking of,'" retired Ranger Phil Ryan said in the series. "You [had to] give him something." 
Psychiatrists who examined Lucas found an unusual gift for recall, which he used to gain investigators' confidence. 
"[The Rangers] were very cautious not to feed information to Lucas that he could use. However, you had to give him some information," Prince said. "He was like an encyclopedia of maps. He had recall that one of the psychiatrists [described as] hypermnesia, which is an antonym of amnesia. He might not be correct about the homicide, but he was normally correct [on the details]." 
Lucas' uncanny talent for reading his interviewers also helped him gauge whether what he was saying was correct, and if not, how to get back on track. 
"He knew if he guessed one way and they acted funny, he'd go the other way," retired Dallas homicide detective Linda Erwin said. "[Law enforcement] got conned by a con. They wanted to believe him." 
According to the series, a 1986 investigation by the Texas Safety Commission and the Texas Rangers of the Lucas Task Force found no evidence of wrongdoing or violations of the law from the Rangers involved.
4. Some investigators are re-opening cases previously "closed" by a Lucas confession. 
In 2016, investigators in Bakersfield, California, decided to take another look at a murder case they had closed after Lucas confessed more than 30 years earlier. 
Lucas had previously admitted to the murder of Linda Sue Adkins in 1976, but a fresh look into the case shows no evidence to suggest he was even in the area then. 
"I reviewed the case and looked at the confession and realized that we didn't have any forensic evidence to link him to the crime, and that there was overwhelming evidence that Lucas wasn't in Bakersfield at the time," Sergent Ted King said in the series. 
"Unfortunately, there's the chance that taking the seal off this case, we may never be able to seal it again, but it's the right thing to do in re-opening it and re-examining what we have." 
5. Breakthroughs in DNA technology have proved Lucas was not the killer in at least 20 different murder cases. 
DNA technology was in its infancy in the 1980s when Lucas made his claims, which meant officials had little else but his word to connect him to murders. 
Now, however, investigators can compare forensic evidence with information on DNA databases to track down the killers who walked free while Lucas took responsibility for their crimes. 
DNA technology has never linked Lucas to any of the 200 murders the Texas Rangers attributed to him, but it has identified the true killers in 20 cases, according to the series. 
"Now, cases are being solved," said Vic Feazell, former McClennan County district attorney during Lucas' prosecution there. "The real killers are being found – and it's not Henry Lee Lucas." 
---
About the author
Alexandra Wessling previously served as an editorial assistant for Corrections1 and PoliceOne.