Ex-NYC jail captain sentenced on negligent homicide charge over inmate's suicide
Rebecca Hillman is the first correction officer convicted and incarcerated for committing criminally negligent homicide on the job, the DA said
---
By Molly Crane-Newman
New York Daily News
NEW YORK CITY — A former New York City jail captain who barred a subordinate from stopping a detainee's suicide was sentenced Friday to six months in jail.
Rebecca Hillman is the first correction officer convicted and incarcerated for committing criminally negligent homicide on the job, the Manhattan District Attorney's office said.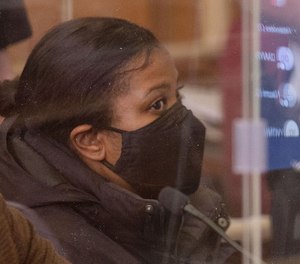 A Manhattan Supreme Court jury in March found Hillman responsible for Ryan Wilson's hanging suicide on Nov. 22, 2020. Wilson, 29, died at least 25 minutes after Hillman learned he was threatening to hang himself inside his cell at the Manhattan Detention Complex, known as The Tombs, evidence showed.
Wilson's sister, Elayna Manson, said in a victim impact statement during Friday's court hearing that the neglect her brother experienced in death was similar to what he experienced since birth.
"His name was Ryan Eugene Wilson, born to a mentally ill mother and alcoholic father — was in foster care by the age of 6, was diagnosed with bipolar and other mental illnesses," Manson said.
"He was rejected in foster care and no one ever wanted him. He was switched from home to home to home — until … they finally put him in a group home upstate, where all unwanted children were placed. He lost his mother by the age of 12."
"As I sat and watched this trial, it was one of the hardest things I've ever had to do — watching pictures and videos of my brother," Manson told Hillman. "But what was even more hard to watch was how you portrayed yourself as the victim the entire time."
Evidence at the trial showed that Hillman, who joined the Correction Department in 2013, prevented Correction Officer Oscar Rojo from entering Wilson's cell as he threatened to kill himself. After 10 minutes passed, Wilson tied a noose around his neck, affixed it to a light fixture, and jumped off a stool.
Jurors watched disturbing footage during the trial showing Hillman then ordering staff to open the cell door momentarily as a lifeless Wilson hung from the ceiling, only to order it shut again because she thought he was faking it.
Another 15 minutes went by before Hillman ordered medical attention. When medics arrived, he was dead.
Wilson, who had long struggled with mental illness, died after he'd been at the Tombs for a month because he violated parole by getting arrested in an open misdemeanor case. The parole hold upon which he was jailed carried bail of $1.
Manson said her brother's mental health plummeted upon his June 2020 release from Sing Sing following a seven-year prison stint for robbery. With the COVID-19 pandemic raging, Wilson could not access a post-release work program or obtain housing. He sent out resumes without hearing back and landed in a homeless shelter.
Benjamin Pinczewski, a lawyer representing Wilson's family, said he felt the six-month jail sentence was too lenient for Hillman.
The ex-correction officer, he said, "didn't show any type of human decency about what happened except when it impacted her."
Under the charge, Hillman faced a maximum sentence of 1 ⅓ to 4 years.
Hillman's lawyer, Todd Spodek, said he was thankful Judge Robert Mandelbaum considered Hillman's acquittal on charges she falsified paperwork in sentencing her "to six months (four with good time) rather than the max sentence the prosecutors asked for."
At her sentencing, attended by at least a dozen correction officers, some of whom wept, Hillman was overcome with tears as she addressed the court about the "tragic and horrific incident" and the mistakes she would live with "every single day." Hillman said she realized she should have acted with urgency.
"I do send my condolences to the family," she said. "I am a human with feelings."
Pinczewski said Wilson's incarceration and death in custody underscored the need for better services for mentally ill people and for people released from prison with nothing after serving their time.
"This case is a tragedy from beginning to end," Pinczewski said, describing how upon his release from prison months before his death, Wilson had "absolutely no resources."
"Whether for mental health, whether for physical health, whether to sustain him so he could eat, so he could shelter himself, there was nothing provided for him," Pinczewski said. "You don't want people to be recidivists? Provide some kind of help. Provide some kind of program. Provide some kind of counseling for them. Some jobs for when they come out of jail — and then, perhaps, they won't go back."
At trial, Hillman contended that based on her experiences with other detainees, she believed Wilson was pretending to attempt suicide. Spodek sought to blame the city's dysfunctional jail system, arguing that Hillman might have lacked diligence but was not "a homicidal maniac."
Manhattan DA Alvin Bragg said he hoped the outcome brought a measure of closure to Wilson's grieving relatives.
"Rebecca Hillman's negligence and shocking lack of regard for Ryan Wilson's well-being led to his death. I hope this sentencing can help close what I know has been an incredibly traumatic time for Mr. Wilson's family and loved ones," Bragg said.
The city Correction Department suspended Hillman after her April 2021 arrest and then placed her on modified duty at Rikers, where she earned $96,808 until her firing upon her conviction.
"Ryan Wilson might still be alive today had Rebecca Hillman taken the urgent, appropriate action required of a Department of Correction captain whose job was to protect him, and all persons in custody. Instead she chose to do nothing," Department of Investigation Commissioner Jocelyn E. Strauber said.
"Her dereliction of duty had tragic consequences, and I hope today's sentence provides some measure of justice for Wilson's family."
The city Correction Department did not respond to a request seeking comment.
—
©2023 New York Daily News.
Visit nydailynews.com.
Distributed by Tribune Content Agency, LLC.
McClatchy-Tribune News Service