Wash. county jail installing new bars to prevent inmate suicides
New floor-to-ceiling bars will be added around the level that houses inmates on suicide watch
---
Rebecca White
The Spokesman-Review
SPOKANE, Wash. — To prevent more suicides, the Spokane County Jail will heighten its 4-foot railings to the ceiling on the floor from which an inmate jumped and died.
Jail Director Mike Sparber said the bars will go around the circumference of the second floor mezzanine level where the jail houses inmates who are on suicide watch, detoxing from drugs or alcohol, and those who have been recently booked into jail. The bars are currently about 4 feet high.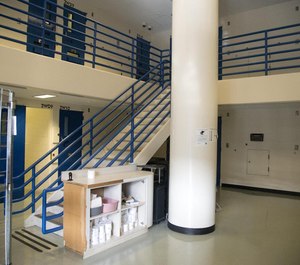 He said the inmate who died in December in an apparent suicide, Robert A. Taitch, 33, was not on suicide watch at the time of his death, but had symptoms of withdrawal from either drugs or alcohol. Taitch, who had been booked into jail two days prior for controlled substance homicide, violating a no-contact order, assault and theft, died after he jumped from a guardrail and hit his head on the concrete floor below.
Suicide is the leading cause of death in the state's jails, making up about 42%, according to a report by a law firm. About 61% of people who die in jail die within the first week of being booked.
Taitch was the 14th inmate to die in Spokane County Jail custody since 2015.
Taitch was not the first Spokane County inmate to die from jumping or falling from a railing. Two inmates have died from jumping from second-floor railings in the jail, and three inmates have attempted the same since 1998.
Sparber said no other inmates have attempted suicide in the same matter since Taitch died in December.
The floor-to-ceiling bars will cost about $22,000 and should be complete by mid-February. If they work well, Sparber said they could be installed in other places in the jail.
"I want to be proactive, that's why I'm going with the rails along there, just to take that (option) away on that floor," he said. "Everything we think of, there's other ways. It's a matter of getting out in front of it in as many ways as we can."
Cpl. Mark Gregory, a spokesman for the Spokane County Sheriff's Office, said the investigation into Taitch's death is still open. A toxicology report is pending.
The Spokane County Jail has long had issues with overdoses, withdrawal, suicides and overcrowding. The downtown jail was designed for 460 inmates, and on the day of Taitch's death it was housing 672. The jail is in the midst of training staff and installing body scanners to detect drugs before they can get into the jail. Those should be up and running within the next two months. A mail scanner has been installed to detect unauthorized substances hidden in inmates' mail.
McClatchy-Tribune News Service