Jailed terrorist requests ADX Florence Supermax release
Abu Hamza, a former imam featured on the "Preachers of Hate" series, is serving a life sentence on charges of terrorism and kidnapping
---
Arab News
LONDON — Jailed Egyptian terrorist Abu Hamza is waging a fresh bid to be released on compassionate grounds from the US supermax prison where he is being held, The Sun reported.
The 65-year-old former imam of London's Finsbury Park Mosque, who was featured in Arab News' "Preachers of Hate" series, was handed a life sentence in 2015 after being extradited to America on charges of terrorism and kidnapping.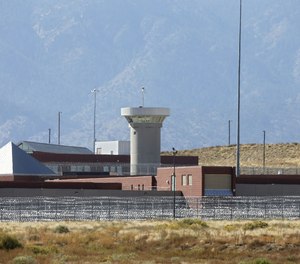 He lives in solitary confinement in Colorado's ADX Florence supermax prison but claims that COVID-19 disease complications have left him too ill to face the "draconian conditions," his lawyer said.
An initial appeal over his extradition years ago was denied by the European Court of Human Rights, which found that conditions in the prison "would not amount to ill-treatment."
[Read: How a supermax prison transformed an officer's law enforcement career — and life]
But Hamza's lawyer said his client's latest appeal would refer to "the draconian conditions of confinement that he has been subjected to at ADX Florence."
It has led him to suffer "multiple bouts of COVID-19, substantially failing health, and 24/7 solitary confinement for the past eight years."
Hamza's charges included overseeing the kidnapping of 16 tourists in Yemen in 1998, and organizing a terror training camp in Oregon, America.
During his sentencing, Katherine Forrest, a former US district court judge, said: "Any time he is released, the world will not be safe."
[Read: 5 things to know about the 'escape proof' supermax prison]  
___
(c)2023 the Arab News (Jeddah, Saudi Arabia)
Visit the Arab News (Jeddah, Saudi Arabia) at www.arabnews.com
Distributed by Tribune Content Agency, LLC.
McClatchy-Tribune News Service