The top safety and operational issues that impacted corrections in 2018
Assaults on correctional officers, inmate mental healthcare and the impact of new technologies dominated the headlines this year
---
Events in 2018 continued to illustrate both the dangers of corrections work and the types of special populations correctional facilities have to manage. At the same time, the field is making progress in improving operations for staff and positive management of the inmate environment.
Let's take a look at several areas in corrections that had an impact this year.
Officer safety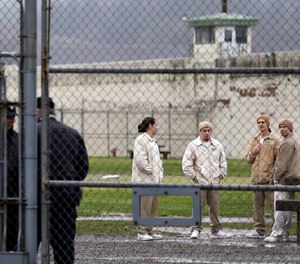 The Officer Down Memorial Page lists three correctional officer LODDs as a result of inmate assaults in 2018.
On February 15, Pennsylvania Department of Corrections Sergeant Mark J. Baserman was attacked by an inmate after the officer confiscated a towel from him that was being used to block the view of his bunk (a common practice). A CO rushing to help was also attacked. Sergeant Baserman died 11 days after the attack.
On July 18, Minnesota Department of Corrections Correctional Officer Joseph Gomm was supervising inmates in a prison industry building when an inmate attacked him with a hammer. He died as a result of his injuries.
On September 14, California Department of Corrections and Rehabilitation Correctional Officer Armando Gallegos died from injuries suffered after he was attacked by 12 inmates on April 21.
Corrections is a dangerous profession filled with dangerous people. Short staffing and locking inmates down for long periods can increase safety risks.
In January 2018, both inmates and staff complained about conditions at the Winnebago (Illinois) County Jail. A budget cut of $4.3 million has made it difficult for the sheriff to adequately staff the jail and reduce the time that inmates are in lockdown. This has increased inmate tensions, resulting in agitated inmates and fights. Officers are stretched thin and cannot do timely checks on the inmate population. One correctional officer had to supervise two units of 64 inmates each, moving back and forth between each unit. A report from the state says that the average annual daily inmate population increased 20 percent since the jail opened in 2007. Staffing has been cut by 22 percent. Not only is this unsafe for staff and inmates, programs available to detainees have been reduced.
Programs and activities serve to reduce inmate tension and provide a positive outlet.  An overcrowded, understaffed jail is a tinderbox ready to explode. Corrections facilities must get the staffing they need and the support from the courts to punish inmates who continue their crimes inside just like they did on the street.
Some people criticize correctional facilities for using segregation and lockdowns to control violent inmates who are a threat to other inmates and to staff. The use of isolation is necessary at times. Some inmates are dangerous and must be housed away from others. An inmate in a Florida facility strangled his cellmate, mutilated him, gouged out his eyeballs, wrapped his body in a blood-soaked sheet and then went to breakfast with the dead inmate's ear hanging around his neck. The inmate said that after the murder, he was going to eat or drink his victim's mutilated body parts. Correctional officers and anyone who works around criminal offenders never know what to expect.
As a retired classification director, I, like many COs, know the effects of isolation. However, I, like many I worked with, wanted to go home safely every day. Moreover, the inmates who are put in danger by these maladaptive inmates deserve to be safe.
Special populations in corrections
Corrections staff continue to deal with increasing numbers of special inmate populations.  
Nationwide, our jails and prisons are the main providers of mental health services in many communities.  
As of late 2017, 56 percent of inmates in Nebraska state prisons were diagnosed with at least one mental health problem. Inmates having serious mental health issues are estimated to be at 16 percent. Nebraska has more beds for the mentally ill than community psychiatric hospitals. About 34 percent of the prison population is prescribed psychotropic medications.
Mentally ill inmates are unpredictable, dangerous and do not do well in an authoritative institutional setting. Diverting the mentally ill may be a workable alternative. Orange County, California, is developing a diversion program for non-violent, mentally ill offenders. Modeled after the successful mentally ill diversion program in Miami-Dade, Florida, nonviolent mentally ill offenders will be diverted to community facilities for treatment instead of being booked into the local jail. The program will also include crisis intervention training (CIT) in mental illness for law enforcement officers. CIT training is gaining popularity among law enforcement agencies.
Corrections staff also have to safely confine transgender inmates. While many facilities house transgender inmates based on their physical birth gender, this practice may be changing. In April 2018, it was reported that transgender inmates in the New York City's jail system will be housed with inmates of the gender they identify with. Several other cities, including San Francisco, have established policies to accommodate transgender inmates. However, the Trump administration has made efforts to rescind transgender corrections accommodations in the U.S. Bureau of Prisons under the Obama administration. In the next few years, transgender inmate advocacy groups will be litigating and negotiating with correctional agencies to accommodate transgender inmates.
A changing environment for both inmates and staff
While prisons and jails are portrayed in movies and television as harsh, dreary and drab places staffed by ill-trained "guards," the reality is quite different. Today's correctional officers are carefully screened and highly trained. Technology is helping to continue that delivery of training while minimizing the impact in-service training can have on staffing.
Not only do criminal justice academies offer in-person classes, but more are offering online classes. Some are exploring evening classes for correctional officers on shift work. Many academies offer online classes, where correctional staff can log in and take courses. There is more emphasis on staff attending webinars with offerings from organizations such as the American Jail Association, the American Correctional Association and the International Association of Correctional Training Personnel.
While online training is cost-effective and convenient, careful attention must be paid to the quality of training. Just sitting in front of a computer screen clicking a mouse does not make for effective learning. In-person classes are still useful. Veteran correctional staff attending classes with new, younger staff can offer advice and the benefits of their experiences in the field. Finally, training must keep pace with new improvements in the field.
Technology is also helping to streamline operations. Paper inmate request forms are being replaced with kiosks where inmates can send electronic messages to staff. Correctional officers can document inmate checks electronically. Body-worn cameras can serve to illustrate accurately what transpired with an inmate. In New York City, after group disturbances and collective violence resulted in 59 uses of force in the first 16 days of operation at a new juvenile facility, COs will receive 60 new body cameras.
There are many ways to keep tension down and maintain a positive climate for inmate populations. This year saw jails and prisons using more technology in the form of inmate tablets and video visitation. In some facilities, inmates can order food and pay for it. These strategies are introduced not so much as "perks," but as management tools. If inmates misbehave, the perks are taken away, as they should be.
What were the biggest changes in your correctional facility in 2018? Share your comments below.