Court temporarily blocks release of 'Angola 3' inmate
A federal appeals court on Tuesday temporarily blocked the release of Albert Woodfox
---
By Cain Burdeau & Brian Slodysko
Associated Press
ST. FRANCISVILLE, La. — Prison activist Albert Woodfox, the last member of the "Angola Three" inmatesheld in solitary confinement at the Louisiana State Penitentiary, will have to wait at least several more days to see if he'll experience the "immediate" and "unconditional" freedom ordered by a federal judge.
A federal appeals court on Tuesday temporarily blocked the release of Woodfox, who spent decades in isolation after forming a Black Panther Party to protest prison conditions.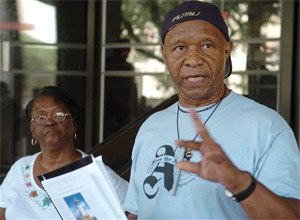 Tuesday's order came a day after a federal judge ruled that the state can't fairly try Woodfox, now 68, a third time for the killing of a prison guard 43 years ago, and that the "only just remedy" would be setting him free after all the years he spent in "extended lockdown."
Woodfox has long maintained his innocence in the guard's killing, which happened during protests of brutal conditions inside the huge penitentiary built on a former slave plantation in Angola, Louisiana. His two previous convictions were overturned for racial prejudice and lack of evidence.
Louisiana Attorney General Buddy Caldwell is appealing the order by U.S. District Judge James Brady, saying Woodfox is a killer who should remain locked up. The stay by the 5th U.S. Circuit Court of Appeals in New Orleans blocks his release until 1 p.m. Friday, providing time for the court to decide whether to accept the state's appeal.
"We are hopeful that the Court of Appeals will grant this stay, for the sake of the families of his victims and the multiple juries and grand juries that independently determined that this inmate should be held accountable for his multiple crimes," Caldwell spokesman Aaron Sadler said.
Woodfox is currently being held at the West Feliciana Parish Detention Center in St. Francisville, where he was transferred in preparation for a third trial. His attorney, George Kendall, met with Woodfox inside the jail Tuesday and said he's "guardedly hopeful." Woodfox has been through arduous court fights before and "understands how the system works," Kendall said.
"Judge Brady was correct in granting this release. There is no way possible for the state to afford a fair trial in this case because nearly all of the critical witnesses are dead," Kendall said. "This case ought to end."
While not awaiting trial or attending hearings, Woodfox has remained at the prison at Angola, where for decades, an "extended lockdown review board" has renewed the decision to hold him in isolation every 90 days. He is denied contact with the general prison population and kept in a 9-foot by 6-foot cell 23 hours a day.
Amnesty International and the United Nations have condemned Woodfox's imprisonment as inhumane. Human rights advocates call it a form of torture. But he has been allowed visitors and reading material, and can see a television through the bars on his cell, which prison officials cite in denying that it's solitary confinement.
Angela Bell, an assistant professor of legal writing and analysis at Southern University Law Center in Baton Rouge, said she talked with Woodfox on Monday night. She said he's been suffering increasing panic attacks, exacerbating other health problems including diabetes.
"He does not allow himself to be very optimistic about things. I think that that is a coping mechanism that he has developed. But we talk often about the power of prayer and the ability of God to deliver miracles. And I do believe that he believes that that is possible," Bell said.
Woodfox was one of several prisoners accused of killing of Brent Miller, a 23-year-old guard at the prison. A year earlier, Woodfox and Herman Wallace helped establish a prison chapter of the Black Panther Party, while Robert King helped establish a Black Panther chapter in the New Orleans prison.
All three were active in hunger strikes and work stoppages that spurred improvements to prison conditions, and all three suffered harsh treatment thereafter as prison authorities kept them isolated at Angola to prevent more disruption behind bars.
Parnell Herbert, a 66-year-old New Orleans playwright and boyhood friend of Woodfox, said that at one point, the Angola Three refused to submit to dehumanizing cavity searches for contraband. They were then taken to a chamber where prison guards beat them with clubs and baseball bats, but they eventually won a battle in court to end the searches.
"Albert told me, 'They will never break me,'" Herbert said.
In ruling against a third trial, Brady cited the inmate's age and poor health; the unavailability of witnesses; "the prejudice done onto Mr. Woodfox by spending over forty years in solitary confinement"; and "the very fact that Mr. Woodfox has already been tried twice" before his convictions were overturned.
Wallace died in October 2013, days after a judge freed him and granted him a new trial. King has become a public speaker since his release in 2001 after the reversal of his conviction in the death of a fellow inmate in 1973.