Ala. inmate who escaped with CO's help will not face capital murder charge, judge rules
Before Casey White's escape last year, he was already essentially serving a life sentence following multiple felony convictions in 2019
---
By Paul Gattis
al.com
FLORENCE, Ala. — With the assurance that Casey Cole White will already spend the rest of his life in prison, a judge on Friday granted a request by prosecutors to drop the capital murder charge against him.
It completes the disposition of an array of criminal charges brought against White, who had a moment in the national spotlight last year while on the run for nine days after escaping from Lauderdale County jail in Florence with the aid of a jail officer.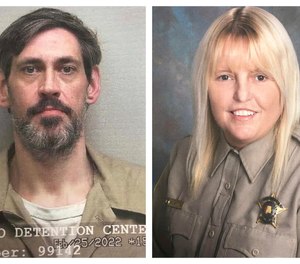 Lauderdale County Circuit Judge Benjamin Graves issued a one-sentence order late Friday afternoon, granting the motion submitted by District Attorney Chris Connolly not to go forward with White's capital murder trial scheduled to begin Aug. 14. That trial has now been canceled.
Before White's escape last year, he was already essentially serving a life sentence following multiple felony convictions in 2019 in Limestone County, including attempted murder and first-degree robbery. At the time of the escape, he had served three years of a 75-year sentence.
White was in Florence at the Lauderdale County jail when he slipped away in a car driven by jail officer Vicky White on April 29. Despite sharing the same last name, they were not related. Rick Singleton, sheriff at the time, said Casey White and Vicky White had a jailhouse romance.
He was at the jail after being charged in 2020 with capital murder in the death of Connie Ridgeway of Rogersville. Connolly said in his motion Friday as well as a press release that Ridgeway's two grown children supported not going forward with the trial.
Casey White in June pleaded guilty to felony murder after Vicky White took her own life as law enforcement closed in to capture them in Evansville, Indiana, on May 9, 2022. Casey White faced the charge because White died during the commission of a felony. Judge Graves sentenced Casey White to life in prison to be served with the 75-year sentence he was already facing.
In his motion asking to dismiss the capital murder charge, Connolly said the trial would require "expenditure of significant state resources." He also said the investigation into Ridgeway's 2015 death is ongoing and other people may have been involved. And White, who will turn 40 in August, will not be eligible for parole until 2081 – at which point he would be 98 years old.
White is currently being held at Donaldson Correctional Facility in Bessemer.
—
©2023 Advance Local Media LLC.
Visit al.com.
Distributed by Tribune Content Agency, LLC.
McClatchy-Tribune News Service