Prisons chief says Ohio must accelerate sentencing reform, prison alternatives
Ohio Dept. of Rehabilitation and Correction Dir. Gary Mohr said that Ohio's prison system needs its own mental-health hospital to treat inmates
---
By Jeremy Pelzer
Advance Ohio Media
CLEVELAND, Ohio — With his eight-year term as Ohio's prison chief nearing an end, Gary Mohr on Friday said the state needs to do more to find alternatives to prison for non-violent drug offenders and the mentally ill.
"We have much farther to go than we've actually come," Mohr said during a speech at the City Club of Cleveland.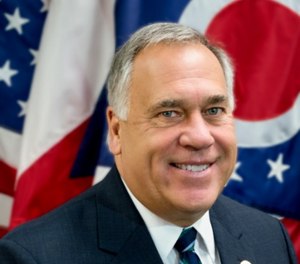 While serving as director of the Ohio Department of Rehabilitation and Correction, Mohr has pushed for efforts to encourage alternatives to prison and set up programs to ensure released offenders don't commit crimes again. Despite that, though, Ohio's prison population has hovered around 50,000 for a couple years, and one of every four state employees now works for the prison system - a fact that Mohr said should dishearten taxpayers as well as social-justice reformers.
Mohr noted that while Ohio's prison population has grown 63 percent since 1990, Michigan's inmate population (which was roughly the same as Ohio's in 1990) has only grown 24 percent during that time. Mohr said that's because Michigan has eased up on mandatory sentencing and allowed inmates to be released early for good behavior.
"We need to reform and not tinker," Mohr said. "Ohio is an aberration in this country."
Mohr called for more non-violent drug addicts to be sent to treatment programs instead of being thrown behind bars.
When asked about Issue 1, a November ballot measure that would reduce penalties for non-violent drug offenders, Mohr voiced sympathy for the proposal but stopped short of endorsing it, saying he would prefer that the legislature handle the issue.
 "I hope everyone in here does take a strong look at Issue 1," he said. "There are elements in Issue 1 that quite frankly follow a lot of the spirit of what we do."
Mohr also said that Ohio's prison system needs its own mental-health hospital to treat inmates who are seriously mentally ill.
Mohr, who has worked in corrections for more than four decades, indicated he expects to depart as prisons director once Gov. John Kasich leaves office early next year.
"Many people in our state don't like our path. I understand that," Mohr said of his efforts to find alternatives to prison time. "But I'm a steadfast believer that we are all human beings, that all of us deserve more smiles - not just those in our custody, but the families that love the people in our custody."
Friday's City Club forum was sponsored by the Cleveland Browns. In opening remarks, Browns co-owner Jimmy Haslam said the team is now getting involved with sentencing reform and other social-justice issues after talking with team players following last year's controversy over players kneeling in protest during the National Anthem.
"I can't speak for all 32 teams, obviously. But I will say that the vast majority of the teams and the players are much better off - I don't want to say because of the kneeling, but I will say this," Haslam said, going on to describe the meetings he and co-owner Dee Haslam had with players. "A lot of good came out of our meetings with our players, and I think we have a much better understanding of them, and they are now working much closer with the communities they live in and work in."
©2018 Advance Ohio Media, Cleveland