LA County Sheriff's Dept. to collect biometrics
System will include palm prints, facial recognition, iris scans and voice recordings, in addition to fingerprints
---
By C1 Staff
LOS ANGELES – With an additional $24 million in funding, the Los Angeles Sheriff's Department's database of biometric data is on track to be the largest system outside of the FBI.
The Epoch Times reports that the system will include palm prints, facial recognition, iris scans and voice recordings, in addition to fingerprints.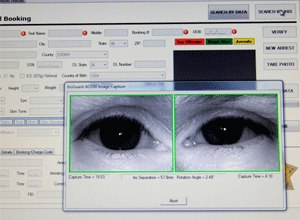 The data will be taken solely from those arrested and booked into the county jail.
A person's identity may also be checked against the database with a mobile device while officers are in the field, similar to fingerprint devices they've been using since 2006. The mobile devices don't have the ability to record new data and add a person to the database.
However, there are separate devices with those capabilities, but the department has not yet selected which one it will use.
Privacy concerns include data from a person not charged with a crime being used to track their movements, along with all of the sheriff's department's data being shared with the FBI.
California law enforcement have also been collecting DNA samples from cheek swabs for felony arrests for about five years.
The ACLU released a statement, saying the database violates the Fourth Amendment and may encourage officers to make more stops in the field to gather information for the new database.
Lt. Joshua Thai, who is in charge of implementing the new Multimodal Biometric Identification System (MBIS) said the system will be useful to protect against identity theft.