Lack of screening, timely care ID'd in report on Calif. prison's COVID-19 response
Recommendations include that officials screen inmates daily, increase medical staffing and investigate instances of retaliation and threats over inmate concerns
---
By Dave Minsky
Santa Maria Times
LOMPOC, Calif. — Lompoc federal prison inmates lacked timely access to health treatment, weren't screened properly and were placed in solitary confinement as part of the facility's response to the COVID-19 outbreak several months ago, according to findings published in a federal report on Friday.
The report was issued by Dr. Homer Venters, an epidemiologist appointed by a U.S. District Court judge to inspect the Lompoc Federal Correctional Complex's response to the pandemic.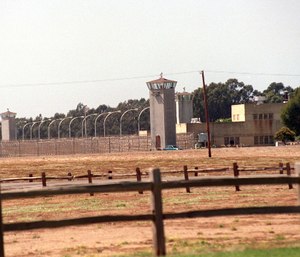 "The COVID-19 outbreak and BOP Lompoc has been one of the nation's most overwhelming in terms of the percentage of detained people who were infected as well as those who died," Venters said in the report.
Along with his findings, Venters issued numerous recommendations, including that officials screen inmates on a daily basis, increase medical staffing and investigate instances of retaliation and threats over inmate concerns regarding the disease.
He also identified several strengths in the prison's pandemic response, including the construction of a hospital unit and a "test-in, test-out" strategy used for inmates in quarantine, which is a relative standard in prison systems.
BOP officials did not comment on the report due to pending litigation, according to to spokesman Scott Taylor, although bureau officials have previously stated they have followed Centers for Disease Control and Prevention guidelines for correctional facilities.
The outbreak has killed four inmates and infected more than 1,000, including more than 900 inmates at the prison's low-security Federal Correctional Institution, according to an OIG report issued in July.
As a result, five inmates filed a federal class-action lawsuit on May 16, accusing warden Louis Milusnic and Bureau of Prisons Director Michael Carvajal of cruel and unusual punishment over their responses to the coronavirus outbreak inside the facility.
During his visit Sept. 1 and 2, Venters inspected the prison's two work camps, the medium-security U.S. Penitentiary facility and the FCI. He relied on three questions, including whether the prison adequately responded to individual cases, implemented infection control and protected high-risk patients.
Venters identified 953 inmates who recovered from the coronavirus and three active infections at the prison complex, which housed about 2,200 inmates at the time of his visit.
Lompoc prison staff allowed access to the whole of the facility, according to Venters.
In his report, Venters identified three screening deficiencies, including the "obvious" lack of daily screening for inmates and inmate work crews, who are considered a primary potential vector for virus spread within the facility.
During the inspection, the prison team told Venters that inmate work crews are subject to daily coronavirus screenings. But after requesting the records to prove it, Venters was told they didn't exist.
"The leadership of the facility, including the PHS officer, were certain that these screenings occur," Venters said. "I spoke with numerous detained people who work outside their housing area, many of them in the north or south camps, and none of them reported having ever been screened before work."
In addition, when Venters asked individual officers about the screening process, none of them seemed familiar with how it worked.
In all facilities, inmates reported that health treatment, or sick call, responses for new pain, injury and other medical problems took more than a week, or they were unable to get a response when their symptoms worsened, even though prison staff said they should be seen face-to-face within 24 hours, according to the report.
Records reviewed by Venters showed delays in chronic care, which took far longer than the required three-to-six-month window, according to the report. Such delays can "significantly" increase the risk of serious illness or death from the coronavirus, Venters said.
Prior to the FCI inspection, staff told Venters that previously infected inmates did not experience coronavirus symptoms in the weeks or months following their medical isolation, but inmates said otherwise.
Venters interviewed 22 FCI inmates who had the coronavirus, and approximately one-fourth of them were still experiencing symptoms that included shortness of breath, pain with breathing, daily headaches, ringing in the ears and weakness, he said.
"None of them reported being seen after leaving medical isolation to be asked about ongoing COVID-19 symptoms or disability," Venters said.
Venters noted several inmates experienced intimidation from correctional officers before his inspection, including outright threats to not speak with him, and threats of solitary confinement if masks were not worn during the inspection.
At the USP, Venters inspected the special housing unit, which is used for inmates awaiting transfer or "special population" inmates. Of the unit's six tiers, three were in use for quarantining patients in single cells between 22 to 24 hours each day with no access to recreation or a telephone.
Inmates who initially fell very ill before they were tested said they were reluctant to report their symptoms because of sick call delays or fear of being placed in solitary confinement, and expressed concerns their medical records erroneously document them as asymptomatic and/recovered from the disease, according to Venters.
"The housing of people for 22-24 hours per day in cells without access to basic privileges, including phone and out-of-cell time, is not appropriate and runs counter to CDC guidelines," said Venters, who also called alleged threats and intimidation by correctional staff "very concerning."
———
©2020 Santa Maria Times, Calif.
McClatchy-Tribune News Service