Police union: Domestic assault suspect released from Mo. jail after positive COVID test
Court records say a judge on Jan. 5 ordered the man held without bail
---
By Mark Schlinkmann
St. Louis Post-Dispatch
        
ST. LOUIS, Mo. — A lawyer for St. Louis' police union is alleging that the city's main jail released a domestic assault suspect because the man tested positive for COVID-19 even though prosecutors wanted him held without the chance of bail.
Jane Dueker, who represents the St. Louis Police Officers Association, said the release of the man Jan. 4 is part of a recent policy by the administration of Mayor Tishaura O. Jones to limit the spread of COVID in the downtown jail by not admitting additional prisoners with the virus.
Dueker said after the man, 36, was released, the circuit attorney's office filed its criminal complaint against him. "It is demoralizing to police," Dueker said of the failure to hold him.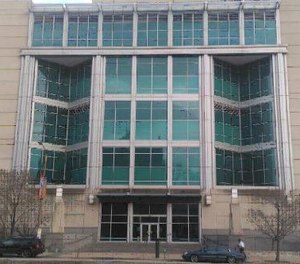 Jones administration officials didn't comment Wednesday on whether there has been a change in policy.
Instead, they released a statement from Corrections Commissioner Jennifer Clemons-Abdullah that said the corrections department works with local hospitals, police and the city sheriff's department to deal with detainees on "a case-by-case basis to determine our best course of action while limiting exposure to the virus."
Clemons-Abdullah also said the department does accept COVID-positive detainees but that it doesn't have "the ultimate authority" to determine which of them are "fit for incarceration."
Police issued a statement saying various factors determine whether people arrested remain in custody at the jail. "Health status is one factor, and the seriousness of the crime is another," the statement said. In all cases, police said, the department works to keep violent offenders off the streets.
Court records say a judge on Jan. 5 ordered the assault suspect held without bail. The order said he was a potential danger to the victim, the community or another person. Dueker said as of late Wednesday afternoon, he had not been arrested again.
According to a probable cause statement submitted by police, the female victim said she and the suspect were arguing when he pushed her down and started to strike her in the face. The suspect then grabbed a pot of soup from a stove and threw it on her, police said, resulting in burns and "missing skin."
Dueker said while the suspect was in the jail on Jan. 4, Circuit Attorney Kimberly M. Gardner's office informed jail officials that it was working to charge the man and asked that they keep holding him until that happened.
However, Dueker said, he was released after three hours because of the COVID test. A source familiar with the case confirmed Dueker's account.
Jones' spokesman, Nick Dunne, and Gardner's spokeswoman, Allison Hawk, both declined to comment.
In media interviews and on social media, Dueker said such releases of detainees with COVID also could result in spreading the virus in the community.
She also speculated that Jones is trying to limit the number of inmates at the downtown jail because she doesn't want any additional overflow sent to the city's old medium-security jail, also known as the workhouse, which Jones attempted to close last year.
"This is a jail population control measure," Dueker said Wednesday on radio station KFTK (97.1 FM).
Dueker said she was aware of one other case in which someone arrested by St. Louis police was released after testing positive for COVID.
She said that involved a man, 31, arrested on a warrant issued by St. Louis County related to a felony charge of nonsupport.
She said based on talking with police officers, she believes there are additional cases in which people arrested were released after testing positive but that she has yet to see documentation.
     
(c)2022 the St. Louis Post-Dispatch
McClatchy-Tribune News Service