San Quentin psychiatrist gets $822K settlement in whistle-blower suit
The doctor says he was retaliated against after he warned that conditions at San Quentin State Prison would endanger inmates
---
Adam Ashton
The Sacramento Bee
California has awarded more than $800,000 to a prison psychiatrist who said he was retaliated against after he warned that conditions at San Quentin State Prison would endanger inmates.
Christopher Wadsworth, the prison's former chief psychiatrist, got an $822,000 settlement last year after alleging that a change in mental health protocol contributed to an inmate's suicide in 2014. He claimed he experienced years of professional retaliation after warning his supervisors that a plan to temporarily restrict the number of San Quentin's acute crisis beds would endanger inmates and contradict provisions of a court agreement that governs mental health services.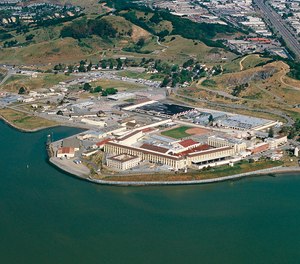 The lawsuit, filed in 2015, concluded this year when Wadsworth accepted a transfer to Folsom State Prison.
At one point in 2016, the state corrections department had been prepared to give him a $2.9 million settlement, according to emails from state lawyers that are included in court records. Wadsworth had a falling out with his attorney and wound up with the smaller sum.
His case has an echo in an ongoing dispute in federal court in which California Department of Corrections and Rehabilitation's chief psychiatrist Michael Golding has disclosed a "secret report" that alleges state officials have provided misleading and inaccurate information to a federal overseer regarding mental health services.
Both cases turn on a long-running lawsuit known as Coleman vs. Brown that compels the state to provide a basic level of mental health care to inmates. Golding's report stalled an agreement that would have allowed the state to reduce the number of prison doctors it employs. They typically earn between $250,000 and $300,000 a year.
Wadsworth insisted in his settlement that he retain the right to publicly discuss his case, but he has declined to speak with The Sacramento Bee because he is worried about professional repercussions.
Wadsworth had a fast-progressing career at San Quentin until he raised concerns about a plan to temporarily use a set of beds reserved for condemned inmates experiencing acute mental health crises for other purposes. He joined the prison in 2011 and was named its chief psychiatrist by 2013.
In 2014, according to his lawsuit, San Quentin was preparing an expansion of mental health services to comply with the court mandate.
It needed several months to open the 40 beds it promised for a fully developed psychiatric inpatient program.
In the meantime, prison executives aired a proposal in late 2013 to use some of its existing acute mental health crisis beds for other inmates with less urgent needs.
Wadsworth at the time warned that reducing the number of beds reserved for patients experiencing acute crises could backfire if it caused the prison to place them in overflow cells with fewer safeguards.
In March 2014 he urged that San Quentin reserve at least six mental health crisis beds because the prison consistently had the number of inmates using them in the months leading up to the change.
"We will need to dedicate beds for the acutely mentally ill and that, without this dedication, we will have knowingly put ourselves into a clinically irresponsible position that will invite even more firestorm," he wrote in an email to corrections leader on March 23, 2014. "But more importantly, it would set the stage for unacceptable patient care of the acutely mentally ill. By definition, these needs are more acute, more unpredictable, and their consequences are more dangerous."
According to his lawsuit, San Quentin leaders responded to his message by demoting him from chief psychiatrist and warning that they'd have him reassigned to a prison in the "middle of the (expletive) desert."
San Quentin that spring removed its designated acute crisis beds and opened them for inmates experiencing varying levels of mental health issues, according to the lawsuit.
In the three months it took San Quentin to open its full psychiatric care program, some inmates experiencing mental health crises were placed in overflow cells as Wadsworth had warned before they transferred to other facilities hundreds of miles away.
In May 2014, according to Wadsworth's lawsuit, one inmate in a psychiatric overflow cell killed himself with an exposed electrical cord. Two months later, another inmate in the same kind of cell tried to commit suicide in the same manner.
Wadsworth alleged that both inmates would have been safer in the acute crisis beds that were available at San Quentin before the mental health plan it used while it prepared its psychiatric inpatient program.
Court and state personnel records show that some of Wadsworth's colleagues in spring 2014 submitted statements to prison executives in which they alleged he was a difficult colleague who made them feel uncomfortable at work. The statements were used to bolster the department's decision to demote Wadsworth from his position as chief psychiatrist.
Wadsworth contested his demotion and complained about it to higher-ranking officials in the department, according to his lawsuit.
Wadsworth filed his lawsuit in June 2015. He continued to work at the prison, earning $265,000 in 2015 and $300,000 in 2017.
The corrections department in July 2016 offered a settlement worth $2.9 million. It called for him to relocate to Folsom State Prison, according to court documents.
That deal broke down and Wadsworth began to represent himself in court. He accepted a settlement worth $822,000 in July 2017 and later that year contested the department's refusal to bring him back on staff at San Quentin.
The department insisted he transfer to Folsom, where he now works.
———
©2018 The Sacramento Bee (Sacramento, Calif.)
McClatchy-Tribune News Service