Union official: Fla. CO died by suicide on Christmas Day at prison
FCC Coleman Officer Phillip Tippett, 47, died by suicide after bringing a gun onto the compound and shooting himself
---
By Romy Ellenbogen
Tampa Bay Times
SUMTER COUNTY, Fla. — A correctional officer at Federal Correctional Complex Coleman in Sumter County died by suicide Christmas Day after bringing a gun onto the compound and shooting himself, a union official said.
The firearm was brought in by Officer Phillip Tippett, 47, who died by suicide at about 2:30 p.m., according to Joe Rojas, the southeast regional vice president for the workers union, AFGE Council of Prisons.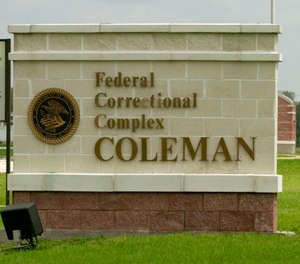 At the time of his death, Tippett was under investigation for an inmate allegation, Rojas said.
Tippett had been at Coleman, the nation's largest federal prison, for about seven years. Coleman has four men's facilities and a women's camp attached to the low-security prison.
The Bureau of Prisons declined to comment about the nature of the allegation against Tippett, citing an investigation by the Federal Bureau of Investigation.
In an ongoing lawsuit filed in federal court in December 2019, 15 female inmates contend Bureau of Prisons officers sexually abused them at the prison for years. At least six accused officers admitted to the abuse, court records show. The women's camp also dealt with a widespread outbreak of Legionnaires' disease in early 2020.
Rojas said they've seen an increase in staff suicides and have been trying to push management to do more.
"Something has really got to be done to help our staff," Rojas said. "We focus so much on inmate suicide because we get training on that and it's totally legit, but we also got to look in the mirror and look at ourself and look at our staff."
In 2019, correctional officer suicides were at their highest with 13 documented cases, according to ABC News. A University of California Berkeley study shows that correctional officers are at a high risk for post-traumatic stress disorder, suicidal thoughts and depression.
As coronavirus raged through prisons, an existing staffing shortage led to more overtime for officers and new fears.
"The job within itself is stressful, and then you put COVID on top of it," Rojas said, "it's an extremely difficult situation for the staff."
Rojas said officers are allowed to carry guns in their cars — a provision the union fought for in order to protect officers as they go to and from work in their uniforms — but are not allowed to have them on the property.
The Bureau of Prisons wrote in an email that "no other staff or inmates were injured, and at no time was the public in danger" at the time of Tippett's death.
Rojas said he knew Tippett as a quiet man who lived in rural Florida.
"It's just unfortunate and it's all too common it seems like in our profession within the Bureau of Prisons," he said.
___
(c)2021 the Tampa Bay Times (St. Petersburg, Fla.)
McClatchy-Tribune News Service