Incarcerated Ohio veterans create care packages for the homeless
The Incarcerated Vietnam Veterans of America Chapter 732 has created care packages for the local homeless population and those who have lost their homes
---
By Craig Kelly
The Lima News
LIMA — A project birthed from an article in a magazine for disabled veterans is helping incarcerated veterans in Allen Correctional Institution give something back for those without a home.
The Incarcerated Vietnam Veterans of America Chapter 732 has created care packages for the local homeless population and those who have lost their homes, complete with a sleeping bag, garment bag, mittens, toiletries and a mat woven from nonbiodegradable plastic shopping bags to keep them from sleeping on wet ground.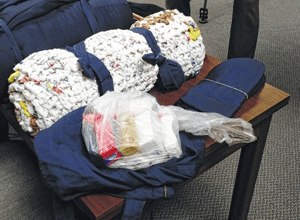 "Everything is handmade," according to Incarcerated Vietnam Veterans of American representative Thomas Routson. "They have commercial sewing machines at the correctional institution where they make clothing for the prison system. These are made out of scraps and they have sewn these together themselves."
Inmates first got the idea for this project through an article in Disabled American Veterans magazine and the project soon grew a following.
"They made these on their own time," Routson said. "They all have their normal duties to perform, and once they were done for the day, they worked on this."
On Wednesday, Routson, along with the Vietnam Veterans of America Chapter 89, presented bags to several agencies Wednesday, with five each given to the Lima Police Department, the Allen County Sheriff's Office, the Allen County Red Cross, the Veterans Food Pantry and the Lima Rescue Mission.
"The inmates see this as a way of helping the community, of giving back," Routson said. "It's partly to say, 'I'm sorry,' I would imagine. I'm not in their shoes, so I can't speak for them."
Lima Police Chief Kevin Martin was appreciative for this effort on multiple levels.
"First, as a member of the Lima Police Department, officers see issues and problems that are so often hidden from the rest of the community, and homelessness is one that most people probably do not realize the magnitude of," he said. "As a veteran, I realize that, by the grace of God, therefore go I. Homelessness is much higher amongst veterans in our country than the rest of the population. We will be looking for those homeless veterans that have a need."