$700K radio purchase approved for Ind. jail, community corrections employees
The American Rescue Plan funds allocation will provide every CO with a panic button-equipped portable radio
---
Ken de la Bastide
The Herald Bulletin
ANDERSON, Ind. — The Madison County Council has approved funding to improve safety for employees that work in correctional facilities. 
The council Tuesday approved $728,055 in American Rescue Plan funds to purchase walkie-talkies for employees of the jail, community corrections and the juvenile correctional facility.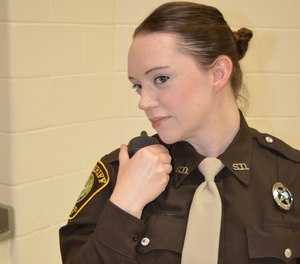 The request for funding was initially approved by the county committee overseeing the distribution of American Rescue Plan funds, but the request had to be fine-tuned.
David Kane, director of Madison County Community Corrections, explained his first request was to protect employees from the COVID-19 virus because radios were shared.
He said the request was amended to include safety measures for the employees.
Kane said every correctional officer would receive a walkie-talkie to communicate with other officers and the new units include a "panic" button.
He said the current radios didn't always work at different levels of the jail and in some instances the batteries would fail.
"This is a safety and security issue," Kane said. "It will reduce the risks."
The walkie-talkies have a five-year warranty and the life expectancy of the units is 15 years.
Kane said the units will be able to be used at the new county jail and all the other facilities.
"This is a long-term investment in public safety," he said.
Madison County received $26 million in American Rescue Plans funds that have to be allocated by the end of 2024 and spent by the end of 2026.
The county used $2.5 million for employee bonuses as a result of the pandemic; $1.7 million for the criminal justice system and $500,000 for studies to determine the needs for a county park system, thoroughfare plan and infrastructure needs.
The county has approximately $20 million remaining of the federal funds.
Follow Ken de la Bastide on Twitter @KendelaBastide, or call 765-640-4863.
___
(c)2023 The Herald Bulletin (Anderson, Ind.)
Visit The Herald Bulletin (Anderson, Ind.) at www.theheraldbulletin.com
Distributed by Tribune Content Agency, LLC.
McClatchy-Tribune News Service