First staff depart N.Y. prison slated for closure as officials work to save it
"This is a prison where the incarcerated individuals actually write staff gratitude letters upon graduation," said one officer
---
By Lohr Mckinstry
The Press-Republican, Plattsburgh, N.Y.
        
MORIAH, N.Y. — The first staff members have already left the soon-to-be-closed Moriah Shock Incarceration Correctional Facility even as state and local officials work frantically to keep the boot-camp-type prison open.
The 74-inmate facility is one of six correctional facilities statewide that the State Department of Corrections and Community Supervision announced for closure on March 10.
[More: N.Y. moves to close 6 prisons, citing 31-year low in inmate population]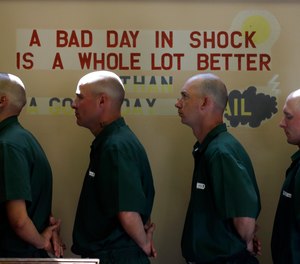 Moriah resident Billie Jo Simpson said she's worked at Moriah Shock for 21 years.
"I had to say good-bye to some of our Moriah Shock family (staff) as they move on to their next facility," she said on social media. "Certainly not because they wanted to, but they had to do what was best for their families."
The state had announced that employees at the prison could transfer to openings at other correctional facilities.
"Tears were definitely flowing as I said my good-byes," Simpson said. "Our paths may never cross again. I know this is just the start of officers leaving and those good-byes happening, but as long as there is the slightest bit of hope that we can save our program I will continue to fight and never give up hope."
State Sen. Dan Stec (R-Queensbury) said he and Moriah Town Supervisor Thomas Scozzafava are still trying to convince the state to keep the shock camp open or use it for another purpose.
"We both know the great work its staff does there, making a difference in helping turn the lives of these lower-level offenders around, getting many the drug and alcohol abuse treatment they desperately need," Stec said. "We also know the unique shock program gives these inmates some discipline and job skills that are also needed to help break the criminal pathway they've been heading down. Tom and I and others have been and will continue to make the case in Albany that the decision to close Moriah Shock should be revisited and reversed."
Moriah Shock opened in 1989, and when the closure was announced in early November it had 74 incarcerated individuals, about 25 percent of its capacity, and 107 staff members.
Moriah Shock drill instructor George Bristol said prison work crews go out regularly to provide labor in towns around the camp.
"Moriah Shock does a ton for the community," he told the Press-Republican by email. "The incarcerated individuals go out in North Country communities and work in our towns and villages doing everything from the Ice Castle in Saranac Lake to clearing brush for New York state trails. The local DPWs (town departments of public works) bring the individuals to clear sidewalks in the winter, clear brush, open up campsites and instill real world work ethic into the individuals."
Moriah Shock work crews also help fight forest fires in the region, he said.
"The disaster relief aspect is huge," Bristol said. "Many Incarcerated individuals have told me that the work squad aspect of the program sets them up for success upon returning to society. They get used to the routine of getting up early and getting out and getting to work in the community; they often look forward to it.
"They learn a lot about tools and hone their skills in areas they would never learn about in a regular prison setting," he continued."They bring that home with them and look forward to employment when they are released.
The shock program is very beneficial to the rehabilitation of the incarcerated, he said.
"They get their ASAT (Alcohol and Substance Abuse Treatment) Program satisfied in six months," he said. "That is almost unheard of in a typical prison in New York state. Their sentences are shortened to six months, which is not only beneficial to the inmates returning to society, but also saves the state money. The incarcerated individuals are given the structure needed in their life.
"In the morning they wake up and participate in physical training to start the day," Bristol continued. "A lot of the individuals leave in the best physical shape of their life. They go on work crews, they come back for our network classes, ASAT, and also learn ways to solve their problems efficiently and effectively through our program. This is a prison where the incarcerated individuals actually write staff gratitude letters upon graduation."
That, to him, is the definition of beneficial, Bristol said.
"The staff here at Moriah truly makes a difference," he said. "From the drill instructors to the counselors and all the civilian employees, there is alot of effort put forth into ensuring the incarcerated individuals leave our facility and are given the tools to be successful on the outside. The economic consequence of losing this facility in Moriah will be impactful, to say the least."
Simpson said everyone at Moriah Shock appreciates the outpouring of community support.
"Keep writing letters and sending emails," she said. "I know it may be a long shot, but we have nothing to lose and everything to gain.
"I have lived in the town of Moriah all of my life and I know one thing: whenever something bad is happening we all pull together and support each other and now is no different," she concluded. "The community support has been amazing and I know every employee at Moriah Shock appreciates it. Keep up the fight and never give up."
    
(c)2021 the Press-Republican (Plattsburgh, N.Y.)
McClatchy-Tribune News Service