Calif. correctional officer dies in on-duty car crash
Richard Bianchi, 53, had been tasked with working at a hospital where an inmate was receiving care
---
By Vincent Moleski
The Sacramento Bee
SHASTA COUNTY, Calif. — California Gov. Gavin Newsom mourned the death of a Northern California correctional officer who was killed in a crash in Shasta County on Thursday.
In a news release, the California Department of Corrections and Rehabilitation said Richard Bianchi, 53, was killed in a solo-vehicle crash on Highway 44 near Old Station Road, about 50 miles east of Redding, while on his way to a hospital.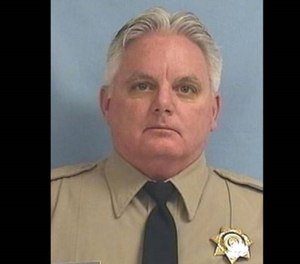 Bianchi, who was a correctional officer at the High Desert State Prison in Susanville, had been tasked with working at a Redding hospital where an inmate was receiving care.
"Jennifer and I offer our deepest condolences to the family, friends and co-workers of Correctional Officer Richard Bianchi as they mourn the loss of this dedicated officer," Newsom said in a statement Sunday. "He will be remembered as a consummate professional who selflessly carried out his duties to protect the public, and we are grateful for his years of service to the people of California."
Bianchi joined CDCR in 2010, and started working at the High Desert State Prison a year later. He was found early Thursday morning by California Highway Patrol officers in his state-issued vehicle, overturned, and was pronounced dead at the scene.
"My prayers go out to Correctional Officer Bianchi's family, friends and co-workers on behalf of myself and the entire CDCR family," CDCR Secretary Ralph Diaz said in a statement. "Correctional Officer Bianchi's death is felt through this entire department. His service to California was largely unseen by the citizens of this state but his daily work and dedication will not be forgotten be his peers and myself."
Bianchi is survived by his wife and two adult children. Newsom said state flags would be flown at half-staff in his honor.
"Our sincerest condolences are extended to the Bianchi family, friends and loved ones," High Desert State Prison's acting warden Jason Pickett said in a statement. "Correctional Officer Bianchi was a consummate professional and an excellent member of the HDSP team. He and his family will be in our thoughts and we thank him for his selfless service."
———
©2020 The Sacramento Bee (Sacramento, Calif.)
McClatchy-Tribune News Service