Children of Las Vegas COs, police officers awarded scholarships in memory of slain officers
The scholarship helps children of Las Vegas correctional and police officers advance their education
---
By Christian Casale
Las Vegas Review-Journal
LAS VEGAS — Twelve Las Vegas high school students have earned a $5,000 stipend through the Alyn Beck and Igor Soldo Memorial Scholarship, the Metropolitan Police Department Foundation announced in a Monday press release.
The scholarship – now in its ninth year – is bestowed to children of Las Vegas police and corrections officers and was named in honor of two slain Metro police officers.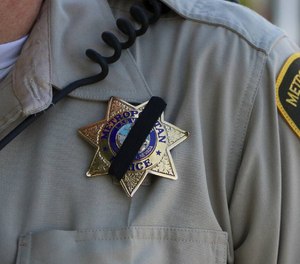 The 12 recipients were chosen from a pool of 44 applicants based on factors such as GPA and community engagement. The scholarship money is meant to alleviate the tuition, book costs and other fees at recipients' chosen college or vocational school.
Tom Kovach, executive director of the foundation, congratulated the students and thanked the scholarship's donors.
"LVMPD Foundation's commitment to funding scholarships helps talented students from the law enforcement community advance their education," Kovach said. "This scholarship program is also an especially meaningful way to honor the lives of Officers Beck and Soldo, keeping alive their memory through the accomplishments of the next generation."
Officers Alyn Beck and Igor Soldo were shot and killed inside a Cici's Pizza on June 8, 2014 by anti-government radicals Jerad and Amanda Miller. The scholarship in their honor was later created by Ron Coury, a foundation board member, and Don Tamburro, his business partner.
Coury and Tamburro have since donated a majority of the nearly $500,000 that has been bestowed upon 98 students since the scholarship's inception.
This year's recipients:
— Max Toney, Arbor View High School
— Michael Brandon Frailey, Bishop Gorman High School
— Ricardo Cera, Centennial High School
— Alaina Miller, Centennial High School
— Justyce Maestas, College of Southern Nevada High School West
— Taylor Lee, Foothill High School
— Alexander Maxwell Todd, Las Vegas Academy of the Arts
— Sage Overson, Moapa Valley High School
— Lillian Pates, Montana State University
— Isabella Gardea, Shadow Ridge High School
— Ethan Ludwig, Shadow Ridge High School
— Andrew Pescador, Shadow Ridge High School
—
©2023 Las Vegas Review-Journal.
Visit reviewjournal.com.
Distributed by Tribune Content Agency, LLC.
McClatchy-Tribune News Service