Football fan with unique tattoo jailed on drugs charge
Victor Thompson, 46, was arrested for possession of synthetic marijuana
---
By C1 Staff
ST. PETERSBURG, Fla. – A man arrested on felony narcotics charge can be easily identified by his unique tattoo – a full reproduction of Tom Brady's helmet, tattooed across his head.
The Smoking Gun reports that Victor Thompson, 46, was arrested for possession of synthetic marijuana.
He said he had just moved to Florida three weeks prior to his arrest, and did not know that synethetic marijuana was illegal in the state. He claimed it was "still legal in New Hampshire," his home state.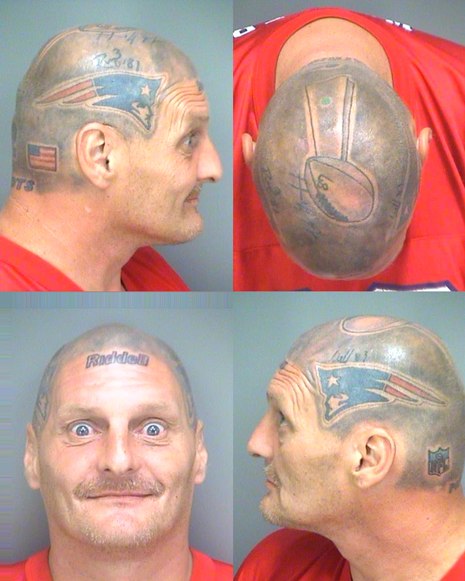 (Photo Pinellas County Sheriff's Department)
It took four photos to fully encompass Thompson's tattoo, which makes it appear as though he is wearing a New England Patriots football helmet. Along with team logos, he also has Brady's number on the back of his head.
On top is an image of the Super Bowl trophy. His head also shows inked versions of player signatures, including Rob Gronkowski, Wes Welker, and Randy Moss.