How do I choose between ant killer and underwear? Running a prison in tough economic times
Running a prison is a difficult job; running a prison in tough economic times is next to impossible. With a failing economy nationwide, America's prison administrators are faced with difficult decisions. It is no longer about doing a lot with a little; it's now about doing something with nothing. So how do we, as corrections administrators, survive budget cut after budget cut and still provide a safe, program rich environment for our staff and inmates?
But take heart, there are certain things that administrators can do to ease the pain of tough financial times.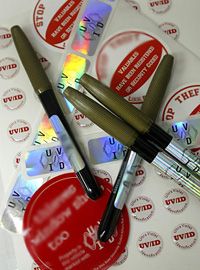 Try to avoid automatic orders. When you provide a department with 20 boxes of pens per month, they will use 20 boxes of pens per month, (AP Photo)
Keep your chin up. First, remain positive. We all know that tough times will pass. If we continue to complain to our subordinates, staff will become discouraged. Look on the bright side, historically a poor economy has been good for corrections. When unemployment is high, people are seeking new professions and corrections benefits.
Get everyone on board. Engage your staff in budget decisions. Give the various departments a budget to work with. Monthly budgets usually work best. If you can reward them for cost saving measures, do so. The reward can be public recognition, a parking space or an "atta boy" at a meeting. If you are deciding between whether to purchase ant killer or underwear, get staff in put. You'd be surprised what they know about the daily operations of your facility that you might have missed.
Control the small stuff. Small stuff adds up. You'd be surprised how small items, like office supplies, toilet paper and hygiene items can drain your budget if you don't keep a close eye. Conduct a facility inventory of the small items. Some staff members will hoard items (to say nothing of the inmates). If you open a closet or desk drawer, you may be shocked at what you find. I recently found over 100 rolls of toilet paper hoarded in a classroom closet.
Get off auto-pilot. Try to avoid automatic orders. When you provide a department with 20 boxes of pens per month, they will use 20 boxes of pens per month, whether they need them or not. Ask for an on-hand count prior to filling an order. If you want to avoid hoarding, assure staff they will get the items they need, just in the smaller quantity. Watch how quickly that reduces your monthly expenses.
Per-need basis. For sure, unless mandated, do not give inmates a standard allotment of goods. Implement a one-for-one exchange program. For female inmates, a request for feminine hygiene products work best. In the past, facilities provided these items regardless of whether the inmate needed them. The items become barter and end up expending resources the facility doesn't have.
It takes a community. Lastly, utilize community resources. It is during tough economic times that we, as administrators, really need to "think outside the box." Utilizing volunteers for programming can save facilities money in the long run – programs reduce idleness, which helps with the safety and security of the institution. There are other resources available as well. For example, some communities give away recycled paint and although you can not pick the color, free is good.
Tougher times are ahead for the entire nation and correctional systems are no exception. We will make it and the economy will change. In the meantime, remain positive and get a handle on your facilities expenses.

Ohio agency heads sound alarm on cuts
Prison teleconferencing system cuts costs of inmate evaluations