Jail staff respond quickly to Kan. water main breaks
Incident was handled between city utilities, Topeka and Shawnee County emergency management staff and jail crew without use of overtime or the transferring of inmates to another facility
---
By C1 Staff
SHAWNEE COUNTY, Kan. — The Department of Corrections director called the breaking of two water mains outside the Shawnee County Jail "a true disaster."
"Reviewing the video, the only thing I can equate it to was a bomb going off," said DOC director Brian Cole, according to the Topeka Capital-Journal.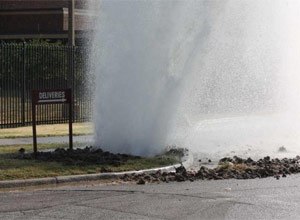 But the incident was handled between city utilities, Topeka and Shawnee County emergency management staff and jail crew without use of overtime or the transferring of inmates to another facility. The cost is currently estimated to be $2,000, an amount Cole is confident the department can absorb within its 2014 budget.
He called the response "quick and thorough," describing it as a true indication of how emergencies are handled in Shawnee County.
Two water mains broke between 8:30 and 9 a.m. on July 31, within a block of each other. A nearby staff member heard the ground and pipes breaking and saw the ground erupt when the first broke near the south side of the Shawnee County Jail.
The second water main break occurred a block to the south. The cause of the breaks is still being speculated.
At first the jail was expected to be without water and sewage service for at least six hours, but in the end staff were able to leave on time that evening. Seventeen portable toilets were brought in and the jail relied heavily on donated bottles of water.
"When you have 500 inmates and 30 juveniles, with what is required by the [Kansas Department of Corrections], you have to have plans in place," Cole said. "I'm proud to say, those plans were in place."
The jail's food service provider, Aramark, was able to provide meals to inmates and staff through its other facilities in the city.
For a time, Cole was worried that the juvenile inmates would have to be relocated, but the quick actions and coordination of all involved prevented both that and overtime costs.
"The Department of Corrections staff did outstanding," he said. "It was a disaster, but I was very rpoud to be their director. The staff worked their tails off that day."