LA, others let immigration agents in the jails, rules vary
After a backlash to immigration enforcement in U.S. jails, local sheriffs' agencies are coming up with new ways to assist federal efforts to ensure immigrants with serious criminal convictions aren't released back onto the streets
---
By Amy Taxin
Associated Press
LOS ANGELES — After a backlash to immigration enforcement in U.S. jails, local sheriffs' agencies are coming up with new ways to assist federal efforts to ensure immigrants with serious criminal convictions aren't released back onto the streets.
The Los Angeles Sheriff's Department, the nation's largest, is the latest example. Sheriff Jim McDonnell announced plans to let Immigration and Customs Enforcement into the jails run by his agency but only to interview for possible deportation those immigrants deemed the most serious public safety threats.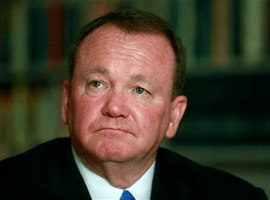 Other counties in California have been crafting their own rules and police and sheriff's officials elsewhere have been evaluating whether and how to participate in the government's revamped immigration enforcement program.
Until earlier this year, many law enforcement agencies were reluctant to work with ICE due to concerns among immigrants within their communities and a federal court ruling in Oregon that inmates could not be kept in jail solely based on immigration authorities' requests to detain them.
Now, more than half of the roughly 340 jurisdictions that previously declined to cooperate with ICE are doing so in some form, said Marsha Catron, a spokeswoman for the Department of Homeland Security.
The latest shift comes after intense outreach by federal immigration officials and several high-profile cases including one in San Francisco where a man recently released from jail despite five prior deportations was charged with shooting to death a woman walking on a city pier.
"We are seeing counties wanting to find a way to cooperate with ICE," said Jennie Pasquarella, a staff attorney for the American Civil Liberties Union of Southern California, adding that many jurisdictions still won't detain immigrants for ICE over legal concerns but will tell the agency when immigrants sought for deportation are being released or transfer them to ICE custody.
"Los Angeles is a priority jurisdiction for ICE, and I think it will be a model that is used by other counties, for better or worse," she said.
ICE has access to fingerprint data taken at jail bookings, and uses the information to locate and deport immigrants in the country illegally who were arrested on local crimes. Last year, the agency announced plans to focus on more serious offenders and ask local law enforcement to at least notify authorities when immigrants wanted for deportation were being released.
Since then, the number of immigrants that ICE has sought to apprehend from the jails has declined, federal statistics show.
Immigrant advocates have long decried immigration enforcement efforts in the jails, while those opposed to illegal immigration don't want police to be able to opt out of helping ICE. After the San Francisco shooting, the topic was fiercely debated in Congress and on the Republican presidential campaign trail, where Donald Trump branded Mexican immigrants as criminals.
Last year, many sheriffs' departments in California started refusing to honor requests to keep immigrants in jail up to 48 hours for ICE over fear of a lawsuit. Now, those in San Diego and San Bernardino counties said they are notifying ICE when immigrants sought by the agency are being released so deportation officers can arrive in time to pick them up.
In Fresno and Kern counties, sheriff's officials said they're letting ICE work out of the jails to take people into custody directly.
Elsewhere in the country, agencies are also trying to find a middle ground. In Texas, the Dallas County sheriff's department recently began limiting when it will honor ICE's requests to detain immigrants, and now only does so for more serious offenders, said deputy sheriff Raul Reyna.
Some that consider themselves safe havens for immigrants, such as San Francisco and Cook County, Illinois, aren't participating in ICE's new effort at all.
While many sheriff's agencies are trying to help, they can't detain immigrants for federal authorities without a warrant and ICE does not have enough officers to collect everyone targeted for deportation, making the current program "dangerously ineffective," said Jonathan Thompson, executive director of the National Sheriffs' Association.
"They're merely saying call us. OK, well, we call you, now what?" Thompson said. "That is not a solution."
ICE officials said they believe the new approach supports local law enforcement's community policing efforts while focusing on offenders who threaten public safety.
That's the balance that McDonnell said he sought to strike in Los Angeles County, where more than a third of residents are foreign-born.
Under the plan, the county will let ICE interview and take custody of immigrants inside the jails but only those deemed serious offenders. Inmates won't be held beyond their scheduled release and while immigration agents have access to the jails, they don't have a permanent office there, the department said.
"He is balancing both public safety and the community trust issues," said Anna Mouradian, justice deputy for county supervisor Mike Antonovich, who supports more collaboration with ICE. "I think he struck the best balance that could be struck."