Night Optics introduces Krystal 950 Clip-on Night Vision Sight
Offers improved light transference and multi-coated HD optics boost contrast and clarity
---
By C1 Staff
Night Optics brings a new night-time scope to the table with the Krystal 950 Clip-on Night Vision Sight, which brings low-light performance with no loss of zero.
The new design provides improved light transference to the image intensifier tube, and multi-coated HD optics boost contrast and clarity by more than 25 percent over Night Optics USA's original D-930 clip-on sight.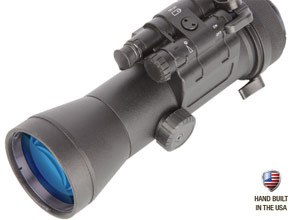 Night Optics presents the Krystal 950 with two rear aperture options: standard at 24 mm and large at 34 mm. Magnification capability can go as high as 25x when paired with high quality day optics while a built-in manual gain control allows for on-the-fly image brightness adjustments.
The sight can be mounted directly to the front objective of the daytime riflescope with a custom Night Optics throw-lever adapter or to the picatinny rail with the included rail mount adapter.
Retail pricing starts at $4,449.99; for more information, visit www.nightoptics.com/.