CDCR honors teachers in correctional classrooms
"The skills our students learn pave the way for successful reentry, helping them prepare for careers or continuing their education," Superintendent Shannon Swain said
---
By Sarah Roebuck
Corrections1
SACRAMENTO, Calif. — Teaching in prison takes a special kind of person. A teacher helps students learn a new way of thinking, which can be a big undertaking in a correctional classroom. 
Teacher Appreciation Week this year landed May 7 through 13. Superintendent Shannon Swain with the California Department of Corrections and Rehabilitation took time to honor and thank those in correctional classrooms who positively impact thousands of lives every day.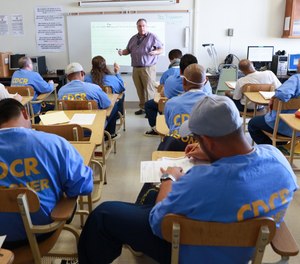 "One theme I have heard repeated in many student graduation speeches is the profound impact on their self-esteem they have found in correctional classrooms," Swain said in a news release. "I often hear how the skills our students learn pave the way for successful reentry, helping them prepare for careers or continuing their education. The work our teachers do helps create a hunger for lifelong learning. Education is transformative."
Teachers in California's prison classrooms provide essential access to technology, incorporating news and current events in their classroom conversations, and modeling how to successfully navigate in the modern world, CDCR said. 
"Teachers in CDCR classrooms are the true ambassadors of change, taking the Rehabilitative Revolution underway in California prisons directly where it needs to be delivered — to the hearts and minds of our students. Join me in celebrating our teachers this week and always," Swain said.