Official: Escaped Texas inmate fatally shot
Jake Childers was fatally shot after an exchange of gunfire with the SWAT team
---
By Julie Garcia
Corpus Christi Caller-Times
LIVE OAK COUNTY, Texas — An escaped inmate was shot and killed Tuesday night, according to officials at the Live Oak County Sheriff's Office.
Jake Childers, 36, went down after being shot in an exchange of gunfire with the DPS SWAT team in Atascosa County at 9:15 p.m., officials said. He was pronounced dead at 10:47 p.m.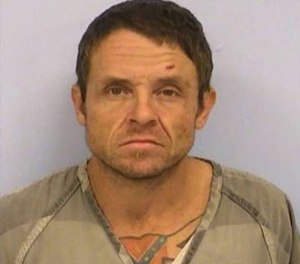 No officers were injured during the shooting, officials said.
Atascosa County is about 55 miles north of George West.
Childers had been on the run for four days. He escaped from a Live Oak County Sheriff's Office vehicle Saturday, Dec. 24, 2016, when he was being brought back to Live Oak County Jail from the doctor. He was injured during a scuffle with jailers after assaulting and taking a corrections officer hostage, said Live Oak County Sheriff Larry Busby. While waiting at the first gate to the jail compound in George West, Childers lowered the back door window and jumped through it.
"The mistake was right there ... the window was unlocked," Busby said. "We had just gotten the vehicle back from the body shop and they worked on it and must have enabled the windows to where they roll down in the back. Deputies failed to check (the windows)."
Video surveillance inside the patrol vehicle was not activated or not working, Busby said. Footage from the jail grounds captured Childers running away on foot.
Once Childers, who is in jail for burglary and domestic violence, found out the window could roll down, he jumped out and ran toward Airport Road. He broke into a home on Airport Road and stole a Chevrolet Tahoe sport utility vehicle with an attached trailer and firearms inside. He later disconnected the trailer on a back road.
___
(c)2016 the Corpus Christi Caller-Times (Corpus Christi, Texas)