The Prison Pipeline: Recruiting women into human trafficking networks
Female prisons are filled with women serving sentences for prostitution but who are unrecognized victims of human trafficking and are often coerced into joining human trafficking networks
---
By Larson Binzer, American Military University
In Public Safety
Aubree Alles looks like many other overworked 36-year-olds. Between returning to school, staying involved in her local church, and raising her 10-year-old daughter, she functions on very little sleep and refers to the driver seat of her 2007 Dodge Ram as a second home, office, and call center. No one would ever guess that it's been only five years since the busy mom from Orlando narrowly escaped a life of rape, drugs and violence.
Aubree and I drive north along the Orange Blossom Trail — Floridians call it the "OBT," a road that stretches 433 miles vertically across the state — before Alles abruptly slams on the brakes to make a quick U-turn. "I remember her!" she cries out, gesturing to a woman on a street corner leaning against a white Mustang at a stop sign. "We used to work out here together." This is one of the streets Alles' trafficker, Rawz, used to put her out on.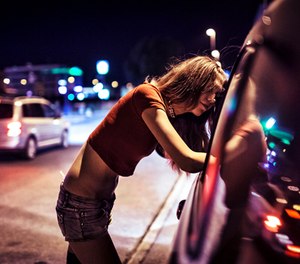 Alles points to the darkened enclaves of OBT as she drives down the street. "It got to the point around here," she says, "where if a man told a cab driver to 'take him to the girls,' the cabbie would know exactly where to go here." She switches the pop music that was playing on her car radio to the gospel station.
Full story: The Prison Pipeline: Recruiting Women into Human Trafficking Networks