Report: Dysfunction at NYC jails contributed to deaths of 7 inmates
"The pervasive issue of insufficient or inadequate rounding and supervision was present in five of the seven deaths," the Board of Correction said
---
By Graham Rayman
New York Daily News
NEW YORK — Unstaffed posts, a failure to check on detainees, delays in providing first aid, inaccurate log book entries, missed medical visits and pretrial stays of more than a year.
Themes of widespread dysfunction run through the latest Board of Correction report on deaths in the jails released Wednesday covering seven fatalities from August through December 2022, and echo conclusions in two earlier BOC reports on 2021 and 2022 deaths.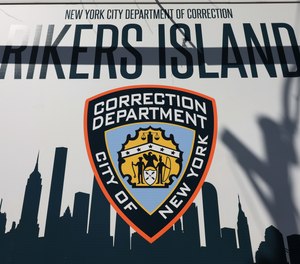 "The pervasive issue of insufficient or inadequate rounding (walking housing units) and supervision was present in five of the seven deaths investigated in this report," the Board of Correction said.
"Correctional staff failed to render immediate first aid to people in custody on multiple occasions. DOC should reevaluate and strengthen its CPR and first aid training for staff."
In the case of Michael Nieves, a man with a long psychiatric history who cut his throat with a department-issued razor on Aug. 25, the board reports he had shown paranoia and agitation but staff decided not to hospitalize him.
Nieves, as the Daily News reported, had been begging authorities to place him in a psychiatric facility rather than Rikers. His pleas were left unmet.
On the day he fatally cut his throat, there was no suicide prevention aide as required in his unit to monitor other detainees and no psychiatric nurse, the report said.
A correction officer noticed the razor was missing but Nieves allegedly said he couldn't find it, the report said. A search failed to find the razor. Nieves then cut himself, saying, "The state forced me to commit suicide."
Two officers in the unit stood outside his cell without going in as Nieves bled from the wound in his neck. "Neither officer nor the captain rendered aid during the approximately nine minutes they waited for medical staff, instead standing outside of Mr. Nieves's cell," the report said.
When medical staff arrived, they found Nieves sitting in a pool of his own blood. A confused clinician said out loud, "It would have been better for us to know what it is. At least we need to know what it is. Nobody told us anything."
City paramedics arrived about an hour later but by then Nieves was almost beyond saving. He was declared brain dead on Aug. 26 and removed from life support Aug. 30.
Two correction officers and a captain were suspended. Nieves' brothers are pursuing a lawsuit.
On Sept. 20, Gregory Acevedo climbed a 30-foot metal fence and jumped from the rooftop recreation yard at the Vernon C. Bain Center roughly 50 feet into the East River and drowned.
The report said officers eventually spotted him on the fence, tried to order him down, tried pepper spray, which was ineffective, and one officer even tried to climb the fence to get to him. His body showed multiple fractures and organ failure from the fall.
"Recreation officers did not immediately notice when (he) began scaling the metal fence in VCBC's recreation yard given that all three officers were already inside the facility and no one stayed behind to supervise those that still remained in the yard," the report said.
Just prior to the hanging death of Erick Tavira on Oct. 22, the floor officer in his unit repeatedly left the area and failed to conduct tours every 15 minutes as required — including a critical one-hour period when Tavira wrapped a sheet around his neck and took his life.
The report notes that Correctional Health Services records show after Tavira was transferred from mental observation housing to general population housing in September 2021, DOC did not produce him for mental health follow-up for two months.
Three detainees in the five-month period died by suicide, one from acute fentanyl intoxication, one from loss of oxygen to the brain caused by cardiac arrest and a pulmonary embolism, one from drowning. One death remains undetermined.
The report notes that Nieves was in custody for 3 years and 5 months, Gilberto Garcia, who died Oct. 31, was held for three years and Tavira, for 16 months. The average pre-trial stay for detainees is nearly a year, longer than in most other jail systems.
Two previous BOC reports covered deaths in the jails in 2021 and 2022. In all 19 people died in the city jails in 2022, with 16 more in 2021.
———
©2023 New York Daily News.
Visit nydailynews.com.
Distributed by Tribune Content Agency, LLC.
McClatchy-Tribune News Service