'Long time coming': County jails sue Ky. over cost of housing state inmates
The suit says counties are unfairly stuck with the costs of housing, feeding and providing medical and psychiatric care for inmates
---
By John Cheves
Lexington Herald-Leader
FRANKFORT, Ky. — The Kentucky Department of Corrections soaks local taxpayers for tens of millions of dollars a year by ordering thousands of state inmates to be held in county jails without reimbursing county governments for the expense, according to a new lawsuit.
The suit against the state Corrections Department was filed Jan. 20 in Franklin Circuit Court by the Kentucky Jailers Association and the elected jailers of Boyd, Campbell, Kenton and Marion counties.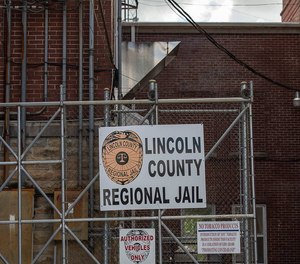 In their suit, the jailers say counties are unfairly stuck with the costs of housing, feeding and providing medical and psychiatric care for state inmates. That leaves counties with less money to spend on their own needs, according to the suit.
As of Dec. 15, Kentucky's jails held 21,362 people, of which 9,488 — or 44 percent — were state inmates.
Daily fees paid for state inmates serving their time in county jails are grossly inadequate, the jailers say, and other types of state inmates are kept in jails with no state compensation at all.
The burden of housing state inmates has contributed to dangerous overcrowding at many Kentucky jails, with people sleeping next to each other on floors, crammed into any available space, because there are not enough beds.
A protest lawsuit by county jailers has been anticipated for years.
"I have to think this is a long time coming," said Judah Schept, associate professor in the School of Justice Studies at Eastern Kentucky University.
In 2019, Schept co-wrote a report on Kentucky's overcrowded jails for the nonprofit Vera Institute of Justice in New York.
Prisons and jails are not the same thing, Schept said. Prisons are meant for people serving longer sentences, with space for inmates to move around and rehabilitation programs, such as education, job training and mental health and addiction treatment. Jails are only meant to hold people near the county courthouse for a short time.
"What we've done, however, is that the jail has become the catch-all solution for every social problem," Schept said.
In their suit, the county jailers don't ask to stop holding state inmates, but they do want more money — and more specifically, they want a judge to order the Corrections Department to sign contracts with the jails establishing the financial terms for holding state inmates rather than deciding on its own what it will pay.
When county jails hold federal inmates for the United States government, they operate under financial contracts, said the jailers' attorney, Jeffrey Mando of Covington. But the state of Kentucky has resisted calls by jailers to sign fair deals with them, Mando said.
"Our efforts have fallen on deaf ears," Mando said. "The state has shirked its responsibility to care for state inmates. It has, instead, shifted that responsibility to the counties."
In a written statement, the Corrections Department said it had not yet been served with the suit.
The Corrections Department broke ground in November on an expansion of the Little Sandy Correctional Complex in Elliott County.
That project, for which there is $114 million in this year's state budget, should double the capacity of the 976-bed prison. However, many of the new beds are expected to be filled by transfers from the Kentucky State Reformatory in Oldham County, an aging facility that has struggled to recruit enough staff locally.
Courts already ruled
The county jails have fought this battle previously, all the way to the Kentucky Supreme Court.
In the 1980s, county jails and state inmates sued the Department of Corrections to protest the state's practice of simply leaving its inmates to serve their time in jails because there weren't enough beds in state prisons.
The Supreme Court sided with the jails. It ruled in 1988 that "the state cannot pass penal statutes and create penalties that generate more prisoners than it is willing and prepared to provide for."
However, rather than add the necessary amount of prison space, the Corrections Department reached a compromise with the policy of paying a daily fee, known as a "per diem," to jails that house its inmates.
The majority of state inmates in county jails are serving time following convictions for Class D or Class C felonies. Rather than house them in one of the state's 14 prisons, which currently hold about 10,300 people, the Corrections Department orders these lower-level inmates to stay in a jail. It pays the jails a daily rate of $33.43 per inmate.
However, that daily rate falls short of the actual cost of holding the inmates, which is more than $50, the jailers say in their suit.
Another problem, the jailers say, is that the state pays nothing for inmates who have been sentenced for state crimes and who await processing by the Corrections Department and assignment to a prison.
These inmates stuck in bureaucratic limbo are called "controlled intake." As of Dec. 15, nearly 2,400 of them sat in jails around Kentucky at local taxpayers' expense. Because they are supposed to be short-timers, they are ineligible to participate in work-release or rehabilitation programs that could reduce their sentences.
Under state law, the Corrections Department must collect controlled intake inmates within 45 days of sentencing — a deadline the state routinely violates, the jailers say in their lawsuit.
'Not physically possible'
In its written statement, the Corrections Department said the two-year state budget law passed by the General Assembly in 2022 included a line giving it 90 days, rather than 45 days, to collect controlled intake inmates from jails. However, the language in that law requires that jails must not object to allowing the additional time.
Regardless, meeting either a 45-day or 90-day deadline cannot be done, the Corrections Department said.
"It is not physically possible, due to available bed space, limited staffing and COVID exposures, to meet this requirement," agency spokeswoman Katherine Williams said in a prepared statement.
"Once an individual has been sentenced to serve their sentence at a state prison, the Department of Corrections must transfer the individual to the state assessment center for intake, booking and medical evaluation," Williams said. "DOC has approximately 2,000 inmates waiting to be transferred and the assessment center has 730 beds.
Finally, the jailers say, people charged with state crimes who cannot post bond for whatever reason, known as "pretrial inmates," are held in county jails at local taxpayers' expense until their cases are resolved.
State inmates can make a big difference in a county jail's numbers and what life is like inside.
In Boyd County, for example, where the jailer is one of the plaintiffs in the suit, the facility has 206 beds and 277 inmates, meaning it's at 134 percent of capacity. As of Dec. 15, the population included 53 state inmates serving time for Class D and Class C felonies and 43 controlled intake inmates awaiting state processing for a prison bed.
Abuse of inmates at the Boyd County jail in recent years has led to lawsuits, criminal prosecutions of staff and a scathing report by the U.S. Department of Justice Civil Rights Division. One of the frequent hazards cited at the jail has been its chronic overcrowding.
"Staff are given no training to help them manage prisoners in the jail's overcrowded living conditions," the Justice Department warned in its 2019 report, which also documented fatal drug overdoses by Boyd County inmates and a destructive riot by inmates two years earlier that briefly closed the jail.
©2023 Lexington Herald-Leader.
Visit kentucky.com.
Distributed by Tribune Content Agency, LLC.
McClatchy-Tribune News Service