Inmate charged with murder in Minn. CO's killing
Prosecutors said the inmate beat Officer Joseph Gomm to death with a hammer and stabbed him with a homemade knife
---
Associated Press
STILLWATER, Minn. — A convicted killer beat a Minnesota correctional officer to death with a hammer he checked out of the prison shop and stabbed him with a homemade knife during an attack last month, prosecutors alleged Thursday.
Prosecutors charged Edward Muhammad Johnson, 42, in Washington County court with second-degree murder and second-degree assault. He is scheduled to appear in court Friday.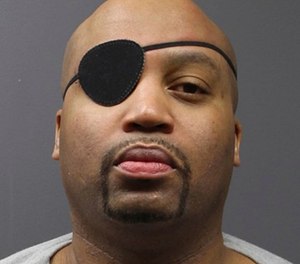 Johnson is accused of fatally beating 45-year-old Officer Joseph Gomm with a hammer on July 18 at a state prison in Stillwater.
The attack happened in an industrial building housing the vocational programs at the state's flagship prison. A bloody hammer was found on the floor near the fatally injured Gomm, the complaint said.
Johnson also is accused of swinging the hammer at a corrections employee who is a prison shop foreman. The foreman told investigators an inmate approached him and said Gomm needed help. The foreman went into the shop and saw Johnson hitting Gomm in the head with a hammer, and retreated when Johnson swung the hammer at him, the complaint said. Johnson then shut the shop door and barricaded it, according to the complaint.
Several inmates saw a shirtless Johnson running around the shop and telling them, "You guys are fine," which apparently meant he did not intend to hurt them, the complaint said. After finding the shop door barricaded, correctional officers entered through a different door and saw Johnson, who surrendered. Correctional officers told investigators that inmates often will remove their shirts when they are involved in a fight.
Besides the hammer, investigators also found two homemade knives, one or both of which was used to stab Gomm, who suffered two puncture wounds to his chest, the complaint said.
Johnson was serving a 29-year sentence for fatally stabbing his roommate in 2002. Gomm, who had just marked 16 years as a correctional officer, is believed to be the first Minnesota correctional officer killed while on duty. His funeral last week drew thousands of law enforcement officers.
Following Gomm's death, union leaders representing Minnesota corrections workers called for more prison officers.
More than 1,600 inmates are housed at the century-old Stillwater prison. About a third of the prisoners are serving time for homicide.